King Hall's Role in the New AB 540 and Undocumented Student Center
Posted By Kevin R. Johnson, Oct 2, 2014
King Hall's renowned Immigration Law Clinic is partnering with the UC Davis Division of Student Affairs to launch the new AB 540 and Undocumented Student Center. It's the first collaboration of its kind in the UC system. The Center will offer academic and financial advising, as well as immigration-related legal services.
AB 540 is the California state law that exempts students from paying out-of-state tuition if they went to a California high school for at least three years, graduated from a California high school, and met other requirements.
Marcus Tang '14 has been hired as the first AB 540 Post Graduate Legal Fellow. Marcus will help to provide legal support, advocacy, and resources for undocumented immigrant students at UC Davis. He has a strong background in public service law. Classmates in the Class of 2014 will recall that he was a co-recipient of the Law School's Martin Luther King, Jr. Community Service Award.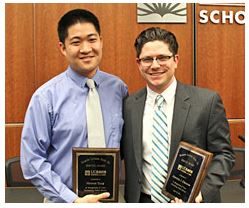 Marcus Tang with award co-recipient Abenicio Cisneros at the Public Service Graduation in May 2014.

Read more about the new AB 540 and Undocumented Student Center at the UC Davis website and in the Law School news section.