King Hall's Partnership with China University of Political Science and Law
Posted By Kevin R. Johnson, Sep 18, 2014
Greetings from China! I am learning first-hand that UC Davis School of Law has many friends in this country.
I, along with Director of International Programs Beth Greenwood, traveled to Beijing to sign a number of agreements of cooperation for faculty and student exchanges, our LL.M. Program, and other programs with China University of Political Science and Law (CUPL).  We were picked up at the airport by two members of the CUPL faculty, Professor Jinxi Wang and Lecturer Xiaokai Li, and had a wonderful dinner with Vice President of China University Baosheng Zhang.  Professors Floyd Feeney and Ed Imwinkelried, both of whom had previously visited CUPL, seemed to be known by everyone at the law school. While in Beijing, our legal colleagues showed us the Great Wall, Ming Tombs, Forbidden City, Summer Palace and the various facilities for the 2008 Olympics.  We also toured the impressive new CUPL Forensic Sciences Institute created by Professor Jinxi Wang and his colleagues and saw the  CUPL campuses in Beijing and Changping.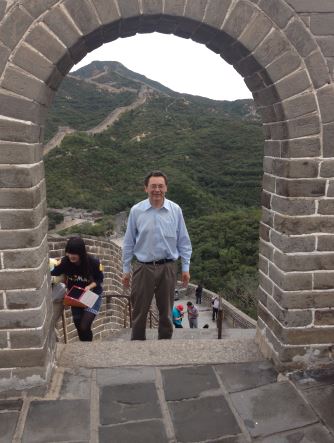 Me at the Great Wall of China.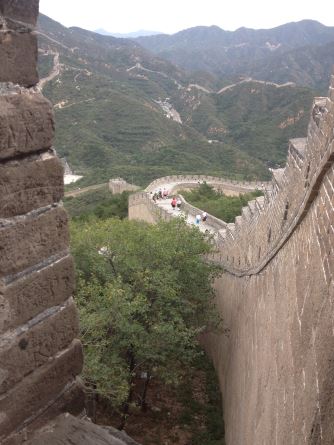 A scenic shot from along the Great Wall.
I made two presentations at CUPL. The first presentation was to graduate students on judicial review of agency actions in the United States. The second presentation, made at the invitation of Professor Bing He, was to the faculty of CUPL, Renmin University, Peking University about the jury system (a concept that does not exist in most other legal systems). The week culminated with a signing ceremony with Vice President Ma Huaide and Dean Xue Gangling for the various agreements between the School of Law at CUPL and the UC Davis School of Law.
On the final day in Beijing, we visited with a number of CUPL colleagues who have been to Davis, including Vice Dean Daiwei Liu, Vice Dean Xu Shenjian, Assistant Dean Guo Chen, and Dean Liu Fei from the China-EU School of Law (CESL) at CUPL.   
It was a productive visit with incredibly gracious hosts. I look forward to visiting China again soon.