King Hall's European Adventure
Posted By Kevin R. Johnson, Jun 29, 2010
Over the weekend, I returned from a whirlwind business trip to Europe, where International Programs director Beth Greenwood and I visited two of our partner law schools in Dublin, Ireland and Cologne, Germany.  It was an extremely busy and productive trip, and I especially enjoyed visiting with King Hall alumni and law school colleagues "across the pond!"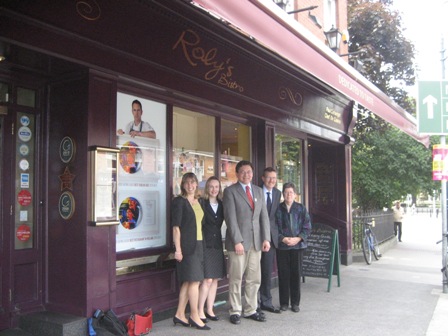 University College Dublin Professors Oonagh Breen and Marie-Luce-Paris-Dobozy, me, University College Dublin Dean John Jackson, and Director Beth Greenwood in Dublin, Ireland
On Tuesday, I visited University College Dublin (like UC Davis, it too is commonly abbreviated "UCD"), where I had lunch with law school Dean John Jackson and two UCD law professors.   We have had a student exchange program with UCD for a few years.  Professors Cruz Reynoso, Ed Imwinkelried, and Donna Shestowsky, among others, have previously visited UCD.  I may visit there again next year.  This spring, law student Rebecca Cohn attended classes as a visiting student along with several other UC Davis School of Law students.  While staying in downtown Dublin, I also visited Trinity College, the Book of Kells, and the National Museum.  We arrived in Dublin on one of the warmest days of the year, over 80 degrees F.  Ireland struck me as an incredible country with the people having much energy and enthusiasm for life.
On Wednesday, we traveled to Cologne, a commercial center in Germany, about a one hour high-speed train ride from Frankfurt.  We have had a summer program in Cologne for 13 years in connection with the University of Cologne.  Within hours of arrival, I visited with Dr. Professor Norbert Horn at the University of Cologne (commercial law), who has taught in our program for many years, and the Dean of the University of Cologne law school (criminal law), Thomas Weigend.  Both are very impressive.  We agreed to prepare a proposal  for future student and faculty exchange programs with the University of Cologne law school.  That evening, Beth and I had dinner with Dr. Horn, Andrea Bjorklund, who taught in the summer program this year, and Sean Duggan at a restaurant with a spectacular view of the Rhine River.
Among many things I learned from the trip was how much soccer and the World Cup meant to many Germans; the first night at dinner on the Rhine, the restaurant erupted in "hurrahs" when Germany scored the winning goal and advanced in the tournament.  Germany played England last Sunday.  On the way back to the hotel, the streets of Cologne were filled with crowds as people watched the game at bars and restaurants with outside televisions.  There were many celebrations that night!
On Thursday, I visited one of our classes in Cologne.  It was Dr. Horn's last class.  The students were from Brazil, Germany, Finland, Switzerland and many other nations and appeared engaged and enthusiastic.  That afternoon,  I went with Beth to the Cathedral of Cologne (the Dom) and the Roman Museum.  Cologne once was part of the Roman Empire.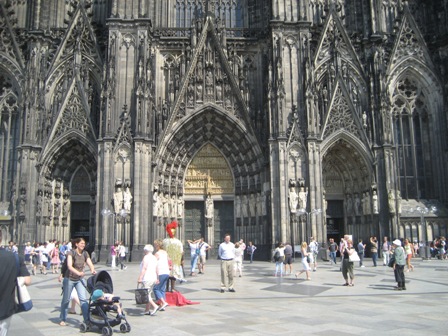 This is me, amid the crowd in front of Cologne Cathedral.
That night, we had an alumni reception for our Academic Year LL.M. and Summer International Commercial Law LL.M. students from Germany and Switzerland.  Andrea, Sean, Dr. Horn, Beth, and Hannah Buxbaum, who taught in the program and teaches law at Indiana University, also attended.  We had alums in attendance from Germany, Finland, Denmark, Mexico, Switzerland, and a number of other countries. Two alums, one from Switzerland and one from Mexico, who met in the Summer International Commercial Law LL.M. program brought their two month old baby with them.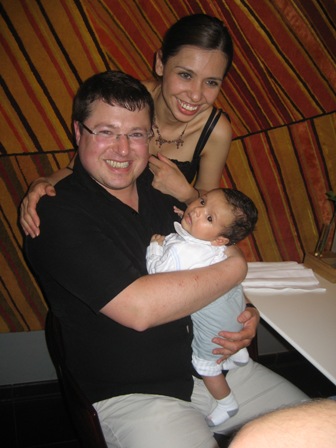 King Hall alums Aline and Fadri Lenggenhager with baby Valentin (future King Haller?)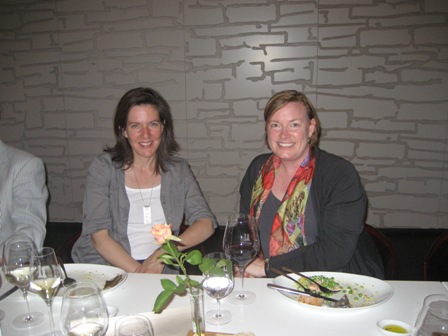 University of Indiana School of Law Professor Hannah Buxbaum and King Hall Professor Andrea Bjorklund at the LL.M. Alumni Dinner in Cologne, Germany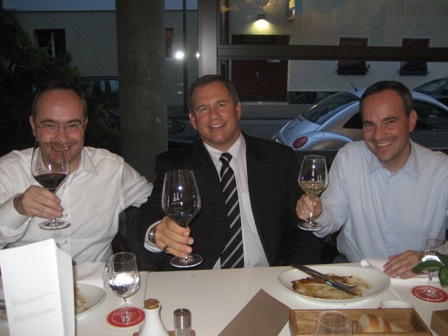 Sven Helm, Louis Carnesale, and Thorsten Helm at King Hall LL.M. Alumni Dinner in Cologne, Germany
The alumni event -- drinks and dinner -- was held at a restaurant on the Rhine River.  I made remarks about the importance of our international programs, our desire to expand them, developments at the law school, and the hope of creating an international student scholarship program. Before dinner, I visited a couple of beer gardens and drank Koelsch, a beer native to Cologne, with Stefan Bellin, an ICL LL.M. alum.
On Friday, we spent the day with Cologne lawyer Dieter Korten, an ICL LL.M. alum who is a prominent attorney in Cologne.  Dieter introduced us to Professor/Dr. Winfried Pinger, with whom we discussed the opportunities to create an international program in economic development and social justice.  We also met with some attorneys from the law firm, and an Italian alum (Torino) of our ICL LL.M. program, Paolo Fabris, to discuss a possible international food and wine conference this fall in Davis, with a keynote speech by a representative from the United Nations.  The program would focus on intellectual property issues with respect to food and wine.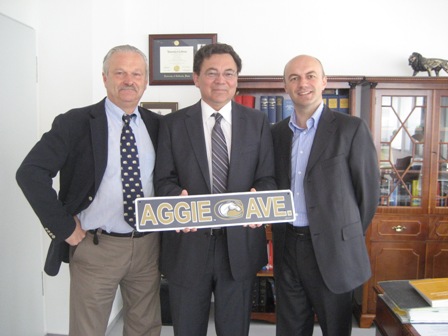 With International Commercial Law (ICL) LL.M. alums Dieter Korten and Paolo Fabris in Cologne, Germany
On Friday afternoon, Dieter drove us to Bonn, once Germany's capital, and along the Rhineland, which has many wine vineyards and is hilly.  We visited the Dragon Castle south of Bonn, which was a hike up the mountain.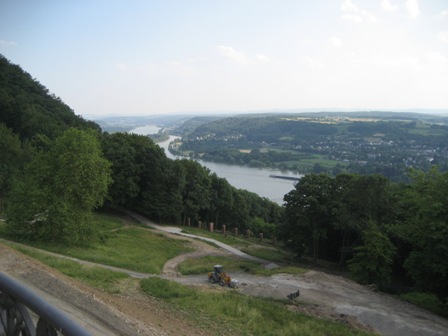 Beautiful scenery in the Rhineland
Dieter hosted us at a wonderful dinner outdoors at a restaurant in a village in the Rhineland.  It was beautiful with spectacular food, a fitting end to an incredibly productive week.
For more information on the International Law Programs at King Hall, please visit www.law.ucdavis.edu/international.