King Hall Weekend: Black Alumni Reunion and Dr. Ives Tournament
Posted By Kevin R. Johnson, Apr 9, 2013
It was a busy but fun King Hall weekend with two major Law School events taking place: the first-ever King Hall Black Alumni Reunion and the Dr. Ives Basketball Tournament.

On Saturday, I had the pleasure of attending and giving introductory remarks at the Black Alumni Reunion. It was a great success!  of alums had great stories and brought great spirit and enthusiasm back to King Hall. Attendees gathered for lunch in the Gunrock Pub, toured the law school building, and then gathered at Sophia's Thai Restaurant in downtown Davis.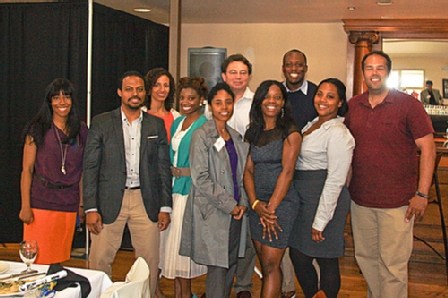 Some of our Black alumni, students, and me!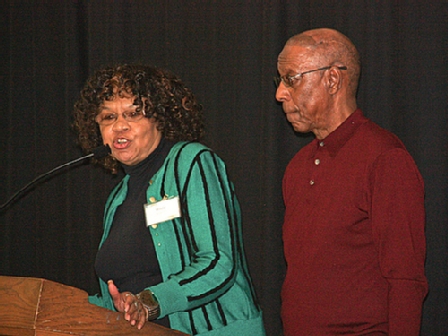 Windie Scott and Otis Benning, both 1977 alums
At lunch, Otis Benning and Windie Scott, both from the Class of 1977, were event emcees. They gave each alum present a few moments to say something about their King Hall experiences. Otis and Windie had four African-Americans in their graduating class; three of the four were at the reunion. I talked for a long while with former Oakland mayor Elihu Harris '72, who was amazed by the newly renovated building and thought it was very cool that the 2010 debate for California Attorney General was held in our Kalmanovitz Moot Courtroom.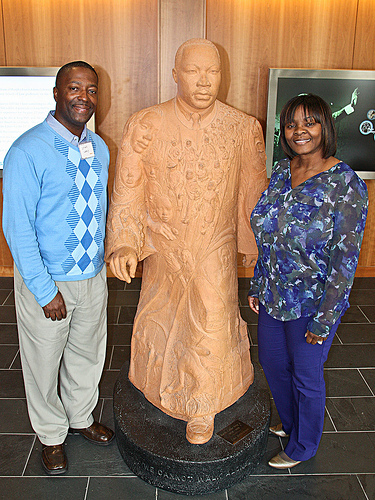 Lots of great people came back, including Renee D. Reimonenq '08, E.J. Brown '12 (who also played in the Dr. Ives tournament the following day), Vera Marcus '90, Bryan Hawkins '05, Judge Stacey Boulware Eurie '95, Amal Abu-Rahma '97, Natasha Ralston '04, and many others. Associate Dean and Professor Vikram Amar and Professors Angela Harris, Evelyn Lewis, Alan Brownstein, and Clay Tanaka attended the reunion and enjoyed catching up with alums.   
Kudos to BLSA students Katie Fowler and Irene Williams for doing such a great job organizing the event! Here's a photo gallery on the Law School's Flickr page: http://www.flickr.com/photos/ucdlaw/sets/72157633199668302/detail/.
The next day, about 150 faculty, staff, students, alumni and friends gathered for the 35th annual Dr. Ives Tournament.
I took this photo of supersub Professor Peter Lee on a fast break. Professor Lee is known to be a basketball standout.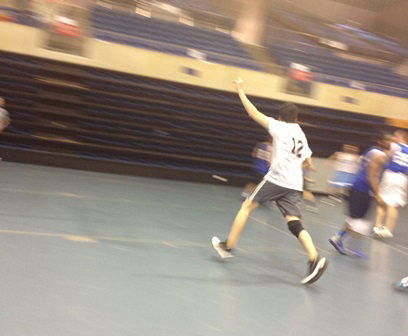 Students from the Entertainment and Sports Law Society (ESLS), the tournament organizers, said 14 teams played in the round robin tournament and six moved on to the playoffs. According to Jayson Nayagam '14, "Eventually Team Boutin and Briscoe, featuring our very own Professor Lee, beat out Team Gavel Knockers run by 1Ls Jeff Mendelman and J.J. Mulligan." He adds, "Special thanks to Adobe at Evergreen Apartments for being our lead sponsor for the event."
It was a great weekend, and there's more to come. We have several King Hall events scheduled for the month of April, including the Patino Banquet, Admitted Students Weekend, the Environmental Law symposium, the Law in the Information Age Lecture, the Bill Smith Memorial Lecture, the Neumiller Moot Court competition, and more! Visit our web page for the full schedule of exciting events!