King Hall Weekend: Auction, Negotiations, and Basketball
Posted By Kevin R. Johnson, Feb 25, 2013
It was a true King Hall weekend!
On Friday, Freeborn Hall was the site of the annual King Hall Legal Foundation Public Interest Auction.  Students, faculty, alums, and supporters were in good spirits.  I was honored to accept the KHLF faculty award for Professor Emeritus Cruz Reynoso, who could not attend the event.  I also successfully bid on a rafting trip on the American River with Career Services Public Interest Advisor Kirsten Hill '04 as the guide.  Kirsten has navigated my family safely on several trips down the American to Folsom Lake.  Legal Services of Northern California had a big presence at the auction this year, with Executive Director Gary Smith, Litigation Director Bill Kennedy, Health Rights Director Amy Williams '05, and others in attendance.  The auction raises thousands of dollars each year to raise money to fund public interest summer fellowships for our students.  Needless to say, the auction, besides being great fun, is for a very good cause.
On Saturday morning, the King Hall Negotiations Team hosted the annual IntraSchool Negotiations Competition.  I welcomed the esteemed group of alums, attorneys, and judges who judged the competition.  Among others participating in judging was Judge Stacey Boulware Eurie '95 (and member of the King Hall Alumni Board) and Professor Rex Perschbacher.
Later on Saturday, the law school hosted about 100 students, professors, alums, admitted students, staff, and friends at the UC Davis men's and women's basketball games.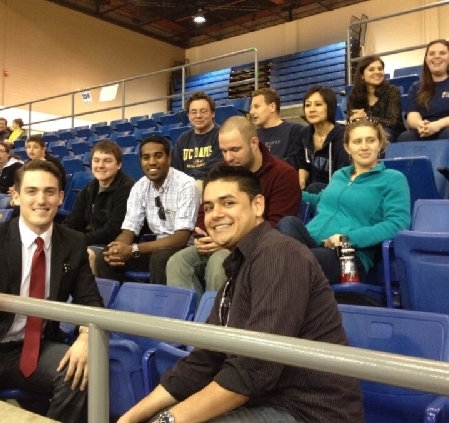 Some attendees hang-out in the break between the men's and women's games.
The Entertainment and Sports Law Society students helped to rally attendance for the event. The men's game was an ESPN BracketBuster and the men beat a spirited Northern Colorado team in a buzzer beater that inspired the crowd.  The women Aggies were not quite so fortunate in their game against Cal State Fullerton.  We had a great group of people in attendance, including alumni board President Kara Ueda '00 (with husband Scott Lay '00), President-Elect Gage Dungy '03, and board members Gene Woo '85 and Alberto Roldan '92.  Aggie Athletic Director Terry Tumey joined the group between games.
All in all, it was a great King Hall weekend!