King Hall Students at California Women Lawyers Annual Conference
Posted By Kevin R. Johnson, Apr 30, 2012
I received this nice e-mail and photo from students Patricija Petrac, Sarah Russo, and Heather Cantua.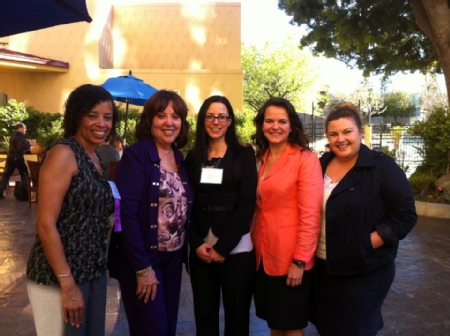 L to R: Professor Christine Goodman (Pepperdine School of Law), Patricia Sturdevant (CWL President and California Department of Insurance), Sarah Russo (UC Davis '13), Heather Cantua (UC Davis '13), and Patricija Petrac (UC Davis '13).
"King Hall Women's Law Association is incredibly grateful for the Dean's office financial support to attend California Women Lawyers Annual Conference last week. The funding you provided paid for the conference registration fees for Patricija Petrac (2L), Sarah Russo (2L), and Heather Cantua (2L). Without these funds, we would not have been able to attend this phenomenal event, which was invaluable to our growth as lawyers, leaders, and individuals  We attended several panel discussions and met numerous accomplished attorneys from across the state and from a wide array of specialities. The opening speaker was Patricia Gillette, a partner in Orrick Herrington's San Francisco office, and the keynote speaker was Catherine Lacavera, Director of Litigation at Google. The event was valuable in so many ways, in particular the opportunity to hear practical advice from accomplished and powerful women. UC Davis sent the most law students to the event, and everyone lauded the administration for giving us the support we needed to attend."
Thank you for the message, Patricija, Sarah, and Heather!  The Dean's Office is proud to support the students of King Hall!