King Hall Student Lobbies in Washington, D.C.
Posted By Kevin R. Johnson, Mar 16, 2012
Jared Voskuhl '13 contributes this guest blog entry on his recent lobbying trip to Washington, D.C.  Thanks, Jared!  The Dean's Office is proud to lend you its support.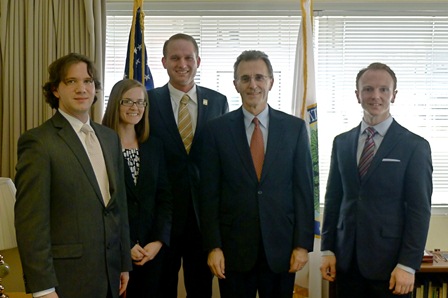 Eli Paster (MIT), Meredith Niles (UC Davis), Jared Voskuhl (UC Davis), Dr. Ochoa, and Matt Cooper (UNT) (left to right)
The National Association of Graduate-Professional Students (NAGPS) hosted its bi-annual Legislative Action Days (LAD) in Washington DC on February 27 & 28, 2012. During these two days, 40 student-delegates from 22 universities in 20 states visited approximately 100 legislative offices on Capitol Hill and gained 5 new co-sponsors for bills affecting higher education. 
I was able to attend this event because of generous support from the Dean's Office and LSA. Along with Meredith Niles (the UCD Graduate Student Association's Deputy External Chair), we met with educational staffers from the offices of Senator Boxer, Senator Feinstein, and ten California members in the House of Representatives including Davis-area Representatives Thompson, Matsui, and Garamendi.
During LAD this year, we lobbied for bills pertaining to student loans, campus safety, immigration, open-access to federally funded research, and funding for all fields of graduate education. These legislative topics were derived from NAGPS' Legislative Platform, a document resolved by NAGPS member institutions during their annual National Conference. This was Meredith's second time participating in LAD, and each of the staffers with whom Meredith met the previous time remembered her and their prior conversations.
Meredith and I also joined NAGPS's President and NAGPS's Legislative Concerns Chair in a meeting at the Department of Education. Dr. Eduardo Ochoa, Assistant Secretary for Postsecondary Education, discussed with our delegation issues that President Obama's administration anticipates students will face in the coming years and how they are shaping policies now to address them. Dr. Ochoa hails from the California State University system and knows first-hand the challenges facing students on publicly funded campuses in California. Dr. Ochoa now oversees and administers federal postsecondary education policy. During the meeting, we also spoke about broad issues affecting students including funding health insurance for students' dependents and pedagogical requirements for faculty in order to enhance institutional support for students while they pursue graduate and professional degrees.
NAGPS will return to DC in the Fall to continue advocating for legislation affecting graduate and professional students. With our national elections in November, these visits will remind our elected officials of the bills to be re-introduced in 2013 when the new session of Congress opens. Thank you to the Dean's Office, LSA, and NAGPS for allowing me to participate in these lobbying efforts.