King Hall Represented at API Policy Summit
Posted By Kevin R. Johnson, May 5, 2010
On Monday, the California Asian Pacific Islander (API) Legislative Caucus took part in the 2010 API Policy Summit, which drew Asian-American leaders and activists from across the state - including from King Hall - to the Sacramento Convention Center.  The event was billed as "two unprecedented days of cutting edge skills training, in-depth strategy sessions, and a gala banquet to empower, inspire, and invigorate API leaders to successfully grow their organizations and overcome the challenges facing their communities in the next decade."
Our own Professor Lisa Ikemoto attended.  The Law School's Director of Marketing and Public Relations, Pamela Wu, was the emcee for the gala banquet.  Here's a photo of the two of them at the event with Assemblyman Ted Lieu, who is running for Attorney General.  Assemblyman Lieu was overheard asking Professor Ikemoto for her expert opinion on the health care debate!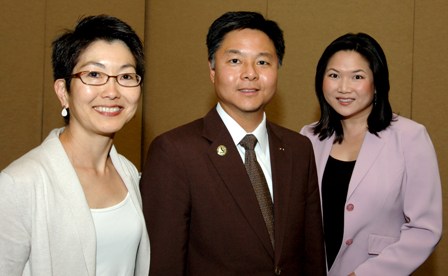 Professor Lisa Ikemoto, Assemblyman Ted Lieu, Event Emcee Pamela Wu
It must have been a big night for legislative caucus events, for I was attending a Latino Caucus awards reception at the State Capitol, just a few blocks away!  More on that coming up in the next Dean's Blog entry...