King Hall Hosts Ninth Circuit
Posted By Kevin R. Johnson, Mar 21, 2011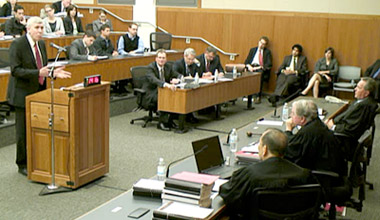 Tuesday, March 15 was a great day for King Hall: On a morning when the Law School was buzzing with excitement over King Hall's ascendance to No. 23 in the latest U.S. News & World Report rankings, the U.S. Court of Appeals for the Ninth Circuit held oral arguments in our new Kalmanovitz Appellate Courtroom.   
Law School faculty, students, alumni, and staff crowded into the courtroom to observe as Circuit Judges William A. Fletcher and Milan D. Smith, Jr., and United States District Judge George H. Wu, sitting by designation, heard arguments in cases involving immigration, asylum, water law, and state law matters.  Many more viewed the proceedings on video screens around King Hall.  The judges also held a question-and-answer session for students, and afterwards they stayed to have lunch with Associate Dean Vik Amar, Professor Diane Marie Amann, and me. The session and our rise in the U.S. News ratings drew media coverage in the Sacramento Bee and the Davis Enterprise.
Hosting this special sitting of the Ninth Circuit was a proud moment for UC Davis and the School of Law.  It was also an excellent example of the ways in which our improved and expanded King Hall is enriching students' educational experiences and helping to raise the Law School's profile.  We're hoping that we will host sessions of the California Supreme Court and California Court of Appeal--as well as another special sitting of the Ninth Circuit--in the Kalmanovitz Appellate Courtroom very soon, so keep an eye on our website for further developments!