King Hall Connections to the Sergio Garcia Case
Posted By Kevin R. Johnson, Feb 10, 2014
There have been plenty of news reports in recent days of the recent swearing in of Sergio Garcia, an undocumented immigrant brought to the United States by his parents as an infant, as a new member of the California bar. UC Davis School of Law had many connections with the Garcia case.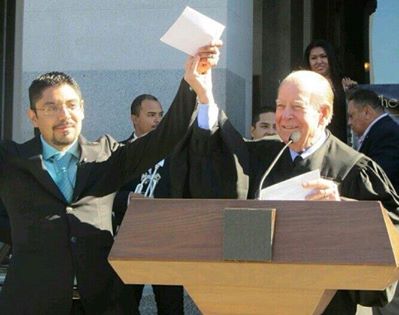 Sergio Garcia and Cruz Reynoso at the swearing-in ceremony

About two years ago, the California Supreme Court asked for briefing on whether Garcia should be admitted to practice law. I was one of the attorneys who worked on the briefing for the California State Bar, seeking Garcia's admission. Immigration Clinic Professor Holly Cooper was one of the law professors who submitted an amici curiae brief in support of Garcia's admission. UC Davis School of Law alum Assemblymember Luis Alejo '01 was one of the legislators who helped move through a piece of legislation at the end of the 2013 session that provided that undocumented immigrants could be eligible to practice law. Chief Justice of California Tani Cantil-Sakauye '84 wrote the opinion for the unanimous California Supreme Court holding that Garcia could be admitted to practice law. Finally, on February 1, Professor (and former California Supreme Court Justice) Cruz Reynoso gave Garcia the oath to practice law. California Senate President pro Tem Darrell Steinberg '84 was in attendance at the swearing-in ceremony at the State Capitol. Here is news coverage of the ceremony from KCRA Channel 3.
Speaking of media coverage, I penned an op-ed in the National Law Journal on the Garcia case and what it means for immigration reform. I will also appear on FOX40 News tomorrow morning at 7:45 to discuss the case; Garcia will appear in the same newscast via Skype.