King Hall Connections at the California State Bar Annual Meeting in Monterey
Posted By Kevin R. Johnson, Sep 24, 2010
I just took a whirlwind trip to Monterey, where the California State Bar held its annual meeting. UC Davis School of Law had a very strong presence there! Yesterday, I hosted an informal reception for UC Davis alumni at Jack's Restaurant and Lounge in the Portola Hotel & Spa. Immediately following the reception, the California Women Lawyers held their 36th Annual Dinner. Nominee for Chief Justice for the California Supreme Court and King Hall alumna Justice Tani Cantil-Sakauye '84 was recognized at the event.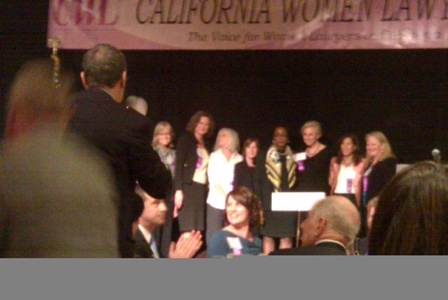 A snapshot from the California Women Lawyers dinner. The Chief Justice nominee is second from the right.
It was nice seeing so many friends. I talked with the Chief Justice nominee, as well as Justice Carlos Moreno and Judges Ramona Garrett '80, Larry Brown '89, and Rebecca Connolly '89. Chief Justice Ron George was in attendance at the dinner and spoke kindly about Justice Cantil-Sakauye, his presumed successor. At the dinner, Assistant Dean Jean Flournoy Korinke, Alumni Relations director Ginger Welsh, and I sat with Alumni Board member Kelly Borelli '92. I also ran into Gary Smith, who has taught public interest law for us for a decade-plus and received the state bar Loren Miller award for his public interest dedication.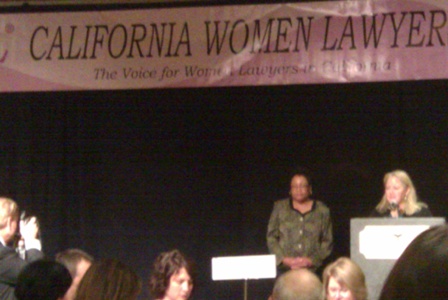 Judy Johnson '76 (left) is honored.
Judy Johnson '76 was recognized and honored for being a "strong leader who has brought her skills and influence to effect positive change for the legal profession and especially for women lawyers." She has been the Executive Director of the State Bar of California since 2000 and is retiring at the end of 2010.
And many King Hall alums attended the reception! It was great to see Peter Lucey '75, Robert Payne '75, George Wailes '81, Ken Babcock '81, Kathryn Doi '85, Daveed Schwartz '94, Michael Gerson '95, Austin Bradley '06, and Victoria Hassid '10. I encouraged them to visit the new building and learn about all the great things going on at King Hall!