King Hall at AALS, Premieres Reynoso Film in New Orleans
Posted By Kevin R. Johnson, Jan 14, 2010
This week, a group of King Hall faculty and staff returned from the Association of American Law Schools (AALS) Annual Meeting in New Orleans, Louisiana.
The city saw some of the coldest temperatures on record during the conference, but it was exciting to see our faculty take their place on the cutting edge of legal scholarship.
Presentations included:
Disclosures - Advice from Deans of Students, Admissions Professionals and Attorneys, and Why This Leads to Issues with Moral Character and Fitness Applications
Speaker: Senior Assistant Dean Hollis L. Kulwin
The Transformation of U.S. Interrogation Policy
Speaker: Professor Diane Marie Amann

Empiricism and Transformations in International Law
Moderator: Professor Diane Marie Amann

Cross Currents in International Law, Human Rights Law and National Security Law
Moderator: Professor Diane Marie Amann

Food Security, the Financial Crisis, and International Regulation: Perspectives from Africa
Speaker: Professor Lisa Pruitt

Intellectual Property and Private Ordering: Opportunity for Openness or Oppression?
Speaker: Professor Peter Lee
Transforming Learning in the Classroom: the 21st Century Law Professor
Moderator: Director of Academic Success Emily Randon
I attended Professor Pruitt's presentation on the Section on Africa program. I also attended part of Professor Amann's panel on interrogations and Professor Lee's talk on IP. I sat next to Professor Lee at the Minority Group Section lunch and enjoyed the awards program chaired by King Hall friend and former professor Angela Onwuachi-Willig. I served on the Executive Committee that selected the award winners honored at the lunch.
The meeting kept me very busy! It was great catching up with friends from law schools across the United States. I attended the annual dinner of the Latino law professors on Thursday night. AALS President Rachel Moran was honored.
One of the highlights of the meeting was the premiere screening of "Sowing the Seeds of Justice," a new documentary about our own Professor Cruz Reynoso. The screening, which was co-sponsored by the Society of American Law Teachers, took place on the top floor of the historic Hotel Monteleone in the French Quarter. More than 100 people were in attendance to see the inspirational film documenting the incredible career of Professor Reynoso, from his days founding California Rural Legal Assistance to his days at King Hall.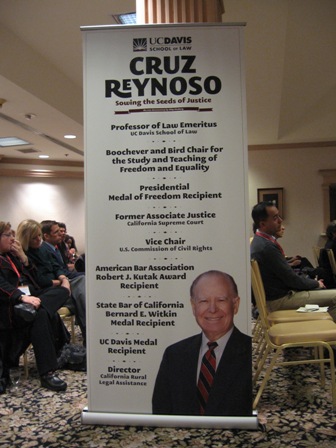 The film was extremely well-received by an audience of law professors from across the country.
The screening was followed by a panel discussion with filmmaker Abby Ginzberg and Professor Reynoso.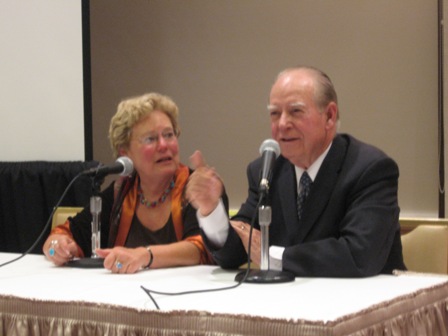 I had the good fortune of moderating the discussion.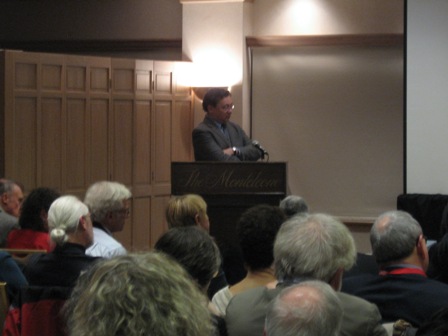 For more information on the documentary, please visit www.reynosofilm.org.
We're in the process of organizing screenings here at King Hall and for our alumni community. Stay tuned!