King Hall Alum Nominated to State Supreme Court Chief Justice
Posted By Kevin R. Johnson, Jul 21, 2010
King Hall is bursting with pride that Governor Schwarzenegger has nominated our alumna Justice Tani Cantil-Sakauye '84 to become the next Chief Justice of the California Supreme Court.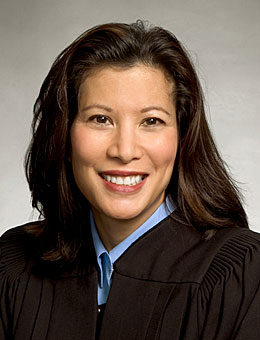 Justice Cantil-Sakauye gave the keynote address for the King Hall Outreach Program a few years ago.  She has maintained strong ties with King Hall, and she has many fans and supporters among our faculty and staff.
The main campus home page posted this spotlight article on Cantil-Sakauye, featuring an old black-and-white photo of the Justice sharing a laugh with some classmates during her King Hall days!  I contributed this quote to the article:
"We are proud that a UC Davis alumna has been nominated as Chief Justice of the California Supreme Court, one of the most prestigious judicial posts in the nation.  Justice Cantil-Sakauye is eminently qualified for the post, with legal experience as a District Attorney, Municipal Court Judge, Superior Court Judge, and California Court of Appeals Justice.  We are especially proud that, when she becomes Chief Justice, UC Davis School of Law alumni will hold leadership roles of the California Supreme Court and the California State Senate (Darrell Steinberg '84 is President Pro Tem)."
King Hall extends its heartiest congratulations to Justice Cantil-Sakauye!