King Hall 3L in Mexico City – Final Guest Blog
Posted By Kevin R. Johnson, Nov 18, 2010
Krista Celentano '11 has been guest blogging from an IP conference in Mexico City.  Here is her final posting.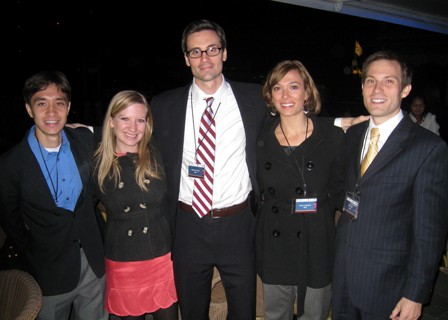 Krista (second from right) with a group of conference organizers and attendees in Mexico City.
            The final day of the conference focused on ways to initially support and fund the creation of traditional arts art crafts in order to bring a business to life and obtain intellectual property protection.  Potential sources of funding included government and private loans, some geared specifically to groups of women, as well as funding through individual donors.  Many speakers also focused on the attitude of the individual artisan in order to effectively build their traditional crafts based businesses, and specifically never to undervalue their own pieces.  Memorably, an artisan from Panama expressed her feelings, stating, "I never want to hear anyone say, 'I don't have a job, that is why I make crafts.'  We are the keepers of our traditions, but we are also providing a valuable service to our country and can have a strong impact on our economy.  We must all be very proud of what we create."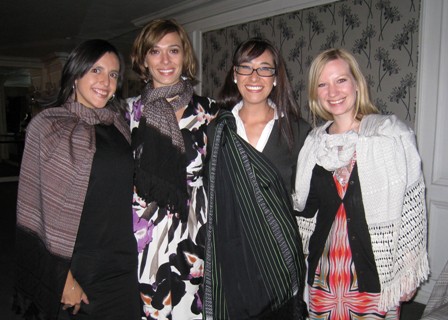 Krista and friends display rebozos, a traditional women's shawl worn in many parts of Mexico and Central America. 
            The closing address by Bruce Lehman emphasized the importance that the conference should have for the representation of artisans, protection of tradition and cultural, and economic growth through promotion of the value associated with cultural expression.  In a broader sense, by protecting and promoting indigenous arts and craft, law and policy can encourage the flow of culture across borders.  Mr. Lehman expressed his continued desire to aid traditional and indigenous artisans throughout the world, and his hope that all attendees would bring back what they had experienced at the conference so that all may benefit.
Through this conference I have learned so much about the intersection of indigenous arts and Intellectual Property protection, and I have met many people with a vision for the promotion of their traditions that I will never forget. I am very proud to have attended this wonderful conference and I am so glad to have been able to share my experiences! 
***
            You can read Krista's previous blog entries here, here, and here.  Thanks, Krista, for contributing to the Dean's Blog!  The Law School is proud to help support your trip!