King Hall 3L in Mexico City, Part 3
Posted By Kevin R. Johnson, Nov 15, 2010
Here's a third guest blog entry from Krista Celentano, a King Hall 3L attending a conference in Mexico City.
***
The second day of the conference included panels on how to effectively market traditional arts and crafts, success stories from those who have built successful businesses, and a spectacular fashion show highlighting a collection of indigenous inspired garments!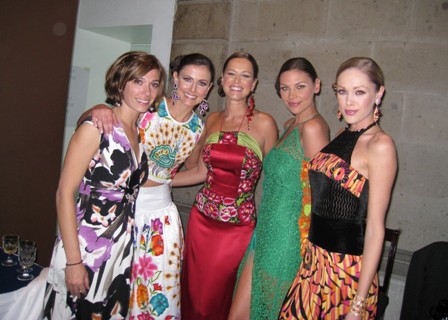 Me backstage with a few of the models from the fashion show
During the day, the panels provided guidance to those trying to build collective brand names, certification systems for trademarks, and other means to protect their arts and crafts.  Avenues such as internet advertising, marketing campaigns, and cultural tourism were highlighted as ways to encourage production and expansion of indigenous arts and crafts.  Representatives from Costa Rica, Belize, Guatemala, Mexico, Panama and many others shared their own experiences concerning effective means of marketing.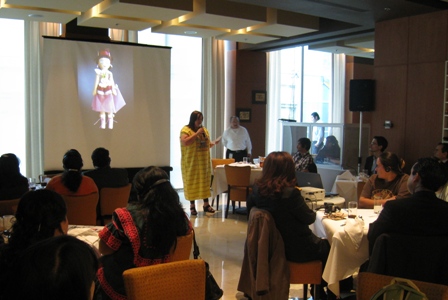 This is a photo of Rebecca Roth, a conference speaker.  She is the creator of Original Friends dolls, a successful endeavor which empowers currently and previously imprisoned women by teaching them the craft of doll making.  http://www.mexicoartshow.com/friends.html
In the evening, the conference attendees visited the University Club of Mexico City on Reforma Avenue and witnessed a stunning fashion show of collections by Paulina y Malinali, two successful Mexican fashion designers who use traditional garb as their inspiration, as well as Eliuh Kolektif, a nonprofit focusing in Mexico on the promotion and positioning of original indigenous textiles as items of luxury, art and design through events such as fashion displays.  It was a wonderful blend of traditional and modern garb, held in a beautiful historic ballroom.  I was actually backstage working with the designers to ready the models for their walk down the runway!  I was truly impressed with all that the various artists have achieved and the passion they have to continue to promote tradition and bring their cultural arts to the rest of the world.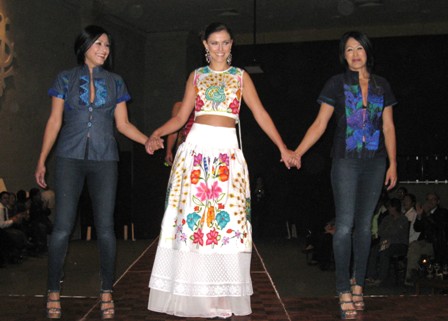 Designers Paulina and Malinali at the end of their fashion show with one of their models