King Hall 3L in Mexico City, Part 2
Posted By Kevin R. Johnson, Nov 9, 2010
As I mentioned in an earlier posting, law student Krista Celentano '11 is guest blogging from a conference in Mexico City.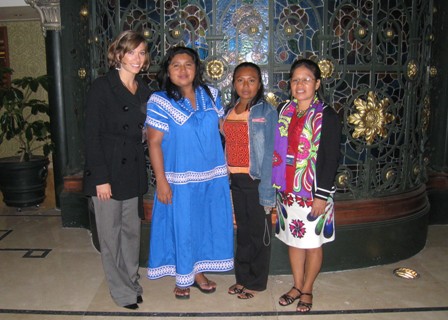 Here's Krista with a group of representatives and artisans from Panama at the Gran Hotel. 
The Law School is pleased to help support Krista's trip to Mexico!
Here's her latest entry:
***
Day one of the Mexico City conference "Harnessing Intellectual Property to Protect and Promote Traditional Arts and Crafts and to Protect Women" opened with a welcome address by Bruce Lehman the Chairman of IIPI, Jorge Amigo Castaneda the Director General of the Instituto Mexicano de la Propiedad Industrial, Sharon Barner the Deputy Director of the USPTO, and Jorge Saggiante the Director of Economic Development with the Organization of American States.  The amount of artisans from Mexico and Central America has been incredibly impressive, and at every panel the attendees are full of questions concerning how they can apply these principles to their own countries.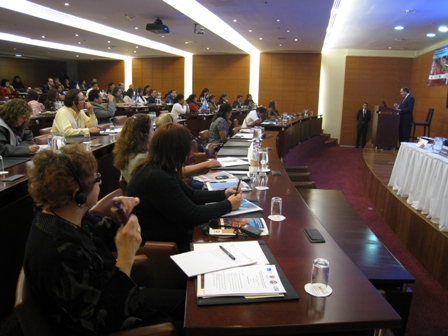 Jorge Amigo Castaneda, Director of Instituto Mexicano de la Propiedad Industrial (IMPI), gives opening remarks to the conference.
Today the panels and presentations focused mainly on identifying and preserving traditional arts and crafts.  The techniques used by the artisans at this conference are hundreds, many times thousands of years old.  As technology increases, the attendees feel there has been a shift away from traditional arts and crafts.  Indigenous representatives in Latin America are working hard to ensure that their cultural expressions and techniques are not lost, and are preserved throughout generations.  Panels discussed the use of Intellectual Property to aid in the preservation of traditional arts by protecting and strengthening the techniques, as well as promoting the marketability of indigenous arts worldwide.  The day ended with a beautiful welcome banquet on the terrace of the Gran Hotel Ciudad de Mexico overlooking the Historic Center.  The rest of the conference will include many more memorable events, including an indigenous garb themed fashion show, and I cannot wait to provide the details in my next posting!