KHLF Auction and Intra-School Negotiations Competition
Posted By Kevin R. Johnson, Mar 2, 2015
It was another great weekend at UC Davis School of Law – and it was the students who led the events this weekend.
On Friday evening, the King Hall Legal Foundation held its 37th annual auction supporting public interest fellowships for law students.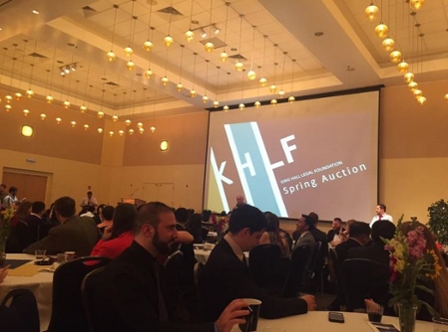 Photo courtesy of @varun_aery '16 via Twitter.
There were some amazing things on the auction block, including a week for two in Ireland, a night of "Irish revelry" with a group of King Hall's favorite – and irreverent -- professors, a luxury vacation in Lake Tahoe, autographed pictures of President Obama and Supreme Court Justice Harry Blackmun, some amazing pictures (including one of Robert F. Kennedy and his brother John), a trip to watch the Dodgers beat the Giants at AT&T Park [<--blogger's commentary], and much, much more.  I stopped by to bid on some items and was able to catch up with many students, professors, and alums.  Professors Johns, Shanske, and Ventry were enthusiastically bidding on a wide variety of items.  Legal Service of Northern California  attorneys Gary Smith and Julie Rogado, who teach public interest classes for King Hall, and Amy Williams '05 seemed to be enjoying the festivities.  It was a warm and exciting King Hall evening!
Early Saturday morning, I welcomed the judges – lawyers, alums, mediators, business professionals, professors, and friends – at the 8th Annual Intra-School Negotiations Competition.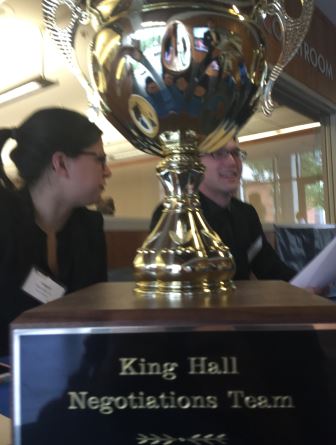 I took this shot of the coveted trophy.
The competition gives UC Davis School of Law students the chance to hone their negotiations skills and receive valuable feedback from people who spend their days in the negotiations trenches.  The competition is a tribute to professor Donna Shestowsky, who is the enthusiastic, supportive, and knowledgeable leader of the King Hall Negotiations Team (the student sponsor of the competition).  Professor Shestowsky also is one of the scholarly leaders in the field.  Professor Shestowsky missed her first competition, as she was caring for her baby boy, who was born just a few weeks ago. Congratulations, Professor Shestowsky!