Keynote Address at Davis Vanguard 10th Anniversary
Posted By Madhavi Sunder, Aug 1, 2016
On Saturday, July 30, I had the honor of delivering a Keynote Address at the 10th Anniversary celebration of The Davis Vanguard, our community's online newspaper founded and edited by David Greenwald.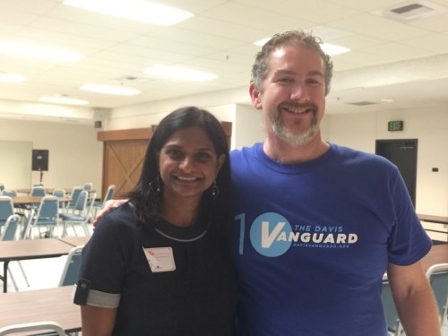 A photo with David Greenwald following Saturday's event. Photo courtesy: Davis Vanguard.
From its inception, the Vanguard has sought to focus attention on the criminal justice system and educational system, offering a vigilant eye to ensure that the rights of minority citizens are not abused. The Vanguard's new Court Watch program has served as a particularly important forum, informing our community about the detailed happenings in our local courts. I was invited to speak at the celebration in my role as President of the Davis School Board. I recounted my and UC Davis law professor Anupam Chander's campaign 11 years ago to name a Davis elementary school after Fred Korematsu. The legacy of Korematsu and the Japanese Internment resonates today, as Muslim Americans and black Americans are called risks to our security on the basis of the color of their skin and their religion. As President of the Davis School Board, I acknowledged that our community's children are watching national developments form Orlando to Davis, and called for the school district to adopt our own Principles of Community, similar to those adopted by UC Davis and the City of Davis. Our children must be assured they are respected, safe, and loved. The entirety of my remarks were printed in today's Davis Vanguard.