Jose Antonio Vargas Speaks at King Hall
Posted By Kevin R. Johnson, Oct 3, 2013
On Monday, King Hall welcomed Jose Antonio Vargas to speak on his experiences as an undocumented immigrant and present clips from his new film.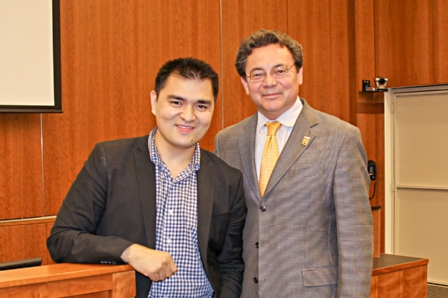 Vargas and me before the event at King Hall
You may have been among the millions who read Vargas's groundbreaking essay published in 2011 in the New York Times, in which he "came out" as undocumented. At the time, he was a Pulitzer Prize-winning reporter for the Washington Post, but he felt like he was living a double life. Since then, he has testified at a Senate Judiciary Committee hearing on immigration reform and appeared on the cover of TIME magazine.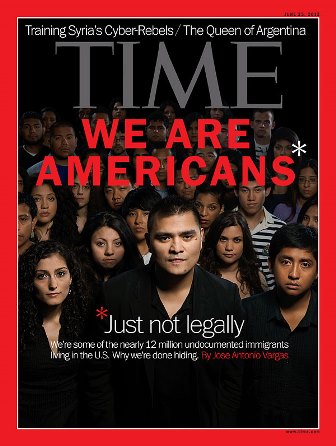 Vargas has since founded Define American, a campaign that seeks to elevate the conversation around immigration. His newest project is Documented, a documentary film on his undocumented experience.
Vargas previewed clips from the film and recognized the undocumented students in the room. He cited his favorite quote by Dr. Martin Luther King, Jr.: "An unjust law is no law at all." He also shared his adaptation of the "I have a dream" speech, calling it, the "undocumented immigrant's dream speech."
"I have a dream"... of citizenship, in a country I call my home, to a nation I want to keep contributing to.
"I have a dream"... of having a driver's license, of getting a work permit, of not being constrained by a broken immigration system.
"I have a dream"...of not being separated from my family and hugging my Mama, whom I haven't seen in person in 20 years. I cannot leave the U.S; there's no guarantee I'd be allowed back, and she's been denied a visa to come here.
"I have a dream"... of not being judged by the pieces of papers I lack, but by the content of my character and the talent and skills I offer.
"I have a dream"... of not living in fear, of not hiding in shame, of not being subjected by the law but being served by justice.
"I have a dream"... of being a free human being.
Professor Emeritus Bill Hing also cites Vargas's speech in this Immigration Law Prof blog post.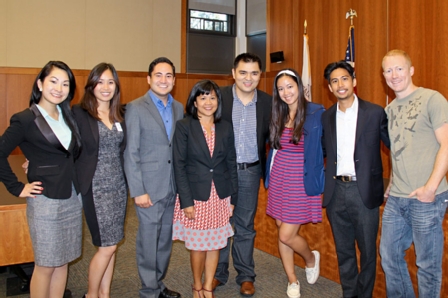 Student organizers with Professor Villazor and Vargas (center).
Many thanks to Professor Rose Cuison Villazor, who helped to bring Vargas to King Hall. Thanks, too, to our event co-sponsors: the Filipino Law Students Association, the Aoki Center for Critical Race & Nation Studies, the Immigration Law Students Association, and the Filipino Bar Association of Northern California.