JJLP Symposium: Healing Our Kids
Posted By Kevin R. Johnson, Feb 23, 2015
Day in and day out, our law students do amazing things.  On Friday, the UC Davis Journal of Juvenile Law and Policy hosted a symposium on a pressing public policy issue.  The symposium was titled, "Healing Our Kids:  Using the Law to Address the Healthcare Needs of Youth in Foster Care, the Juvenile Justice System, and Beyond."  It is the hard work of dedicated law students that made the symposium a reality.  In particular, law students Sonja Prins and Abby Mulvihill worked hard to organize the symposium.
This symposium addressed the child welfare system's shortcomings in addressing the well-being of children in state care, and promotes a dialogue about how the law can be used to address these issues.  The panels discussed access to mental health care in the foster care and dependency court systems and analyze the shortcomings of the healthcare services provided to youth in the criminal justice system.  We were lucky to have set of leaders in the field participate in the conference, including including keynote speaker Professor Jonathan Todres from Georgia State University College of Law.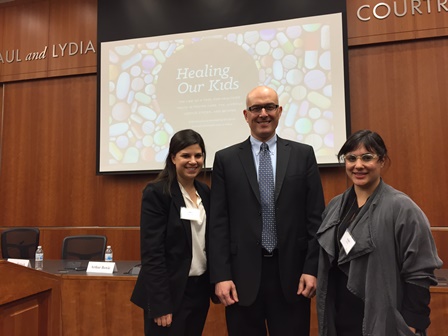 Abigail Mulvihill '16, Professor Jonathan Todres, and Sonja Prins '16
I had the distinct pleasure of welcoming the conference participants and attendees.  I also was honored to introduce our morning speaker and distinguished King Hall alum, Jennifer Rodriguez is a graduate of the UC Davis School of Law Class of 2004.  A former Civil Procedure student of mine (I remember that she sat next to Natasha Ralston), Jennifer is the Executive Director of the Youth Law Center, a national public interest law firm that works to protect the rights of children in the foster care and juvenile justice systems.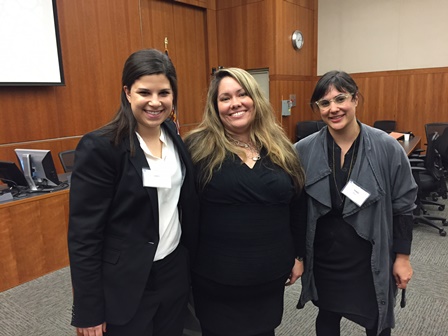 Abigail Mulvihill '16, Jennifer Rodriguez '04, and Sonja Prins '16
Jennifer is a former foster youth who was emancipated at 18 to homelessness.  Her tireless work for foster youth reflects her deep passion for engaging youth and families as the agents of change.  It really was an exciting moment for me to welcome Jennifer to her alma mater, UC Davis School of Law.