International Property Law and Clinical Legal Education at Lunchtime
Posted By Kevin R. Johnson, Mar 30, 2017
More great and intellectually enriching lunchtime programs at King Hall today.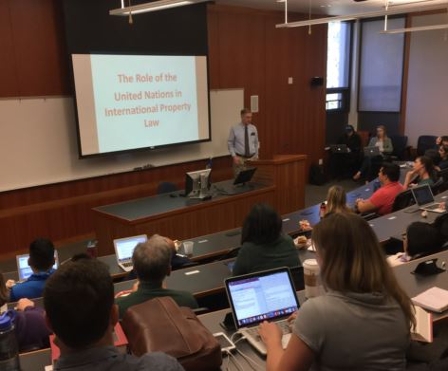 I stopped by a lecture by McGeorge Professor John Sprankling (above) on the United Nations and international property law. The event, which had a full house, was sponsored by the International Law Association.  The burgers from In 'N Out were an added benefit for the students.
Across the hall in the Kalmanovitz Appellate Courtroom, our amazing clinical law professors, including Holly Cooper, Amagda Perez, Camille Pannu, Millard Murphy, Carter "Cappy" White, and Jack Chin, held an informational session on our clinical legal education programs.  Students learned about the clinics and had some pizza to boot.
It's spring and there is never a dull moment at UC Davis School of Law!