Intellectual Enrichment Activities
Posted By Kevin R. Johnson, Apr 13, 2017
Our Faculty Intellectual Enrichment series brings leading scholars to UC Davis School of Law.  Earlier this week, Stanford's John Donahue presented an interesting paper on how political leaders, including President Trump, often misstate facts about crime rates for political reasons.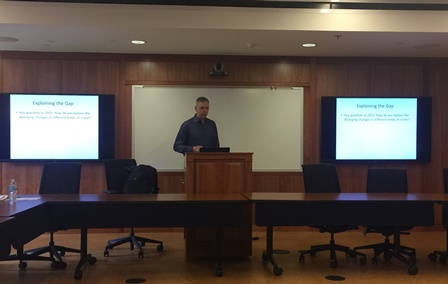 Professor Donahue of Stanford Law School
This year, we have had a great group of speakers.  For a list of upcoming and past speakers, visit https://law.ucdavis.edu/faculty-activity/enrichment/. Thanks to our Intellectual Enrichment Committee, chaired by Professor Chris Elmendorf, for coordinating this great series.
At the same time, Alum John McKinsey '99 spoke on energy law as part of the Environmental Law "culture" week. John, an energy law attorney (and local farmer) who serves on the King Hall Alumni Board, is incredibly generous with the time he gives to the King Hall community.  I stopped by and said hello to John and the students before going to hear John Donahue's talk.
It's an intellectually bountiful spring at UC Davis School of Law!