Innovation Law Class in Silicon Valley
Posted By Madhavi Sunder, Apr 28, 2017
My Innovation Law class took our second "field trip" of the term to Silicon Valley on April 25, where we were hosted by alum Bijal Vakil '96, partner at White & Case in Palo Alto.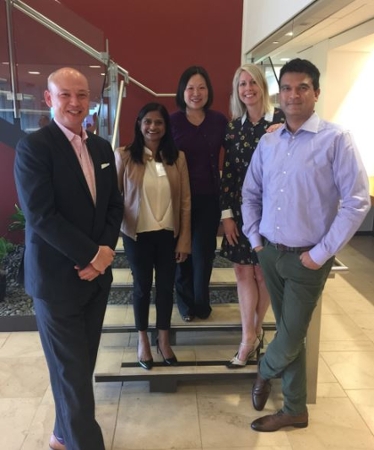 Me with alums including our host, Bijal Vakil '96 (right)
We heard presentations by numerous successful alums working in innovation law, from John Pavolotsky '00, General Counsel at Intel on technology licensing, to Deborah Davis Han '96, Senior Counsel at Zynga, who spoke about video games and trademark conflicts. Angus MacDonald '00, Senior Counsel at the University of California Office of the President (UCOP), spoke to us about technology transfer and copyright. Finally, Bijal Vakil and Jennifer Gossain '07, Counsel at Marvel, gave a lecture on IP litigation.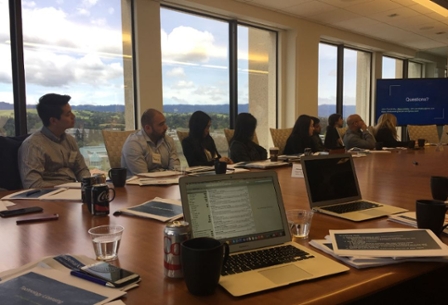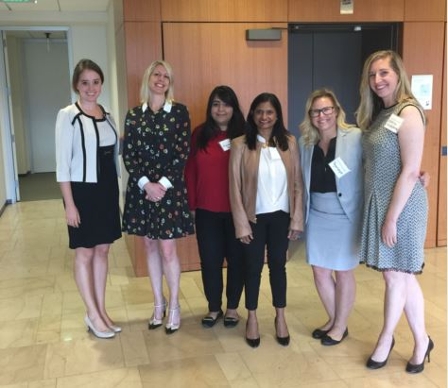 Our alumni were incredibly generous with our students, sharing not only technical knowledge, but also career advice and stories about their own career pathways and experiences. Many King Hall alums attended the reception, including:
Jishnu Menon '06
Zheng Liu '11
Victoria Chang '94
Megan Whyman Olesek '97
Cindy Dole '09
Bimal Rajkomar '07
Kunyu Ching '13
Matthew Brigham '97
Peter Feinberg '89
Thomas Nolan '70
Ted Tao '15
Vivek Chavan '97
Wendy Guo '13
Jacques Baritot '13
A special, big thanks to Bijal Vakil and White & Case for generously hosting us all day!