Immigration Law Clinic Holds Citizenship Workshop in Sacramento
Posted By Kevin R. Johnson, Oct 12, 2010
The Immigration Law Clinic held a very successful citizenship workshop at the SEIU office in downtown Sacramento over the weekend.  Read the web news story here.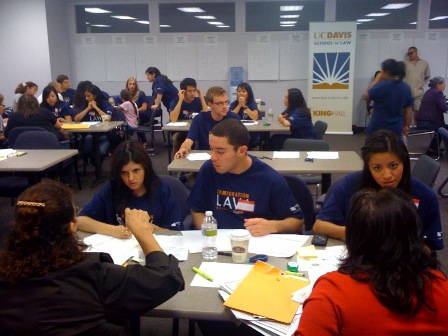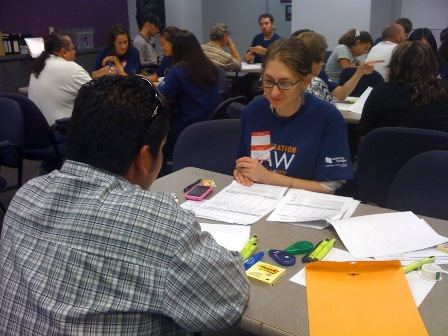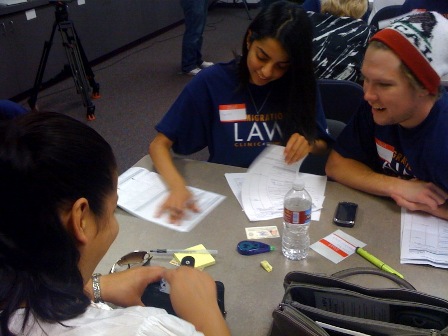 I just received this e-mail from Professor Amagda Pérez. 
Dear Friends,
On behalf of Dean Johnson, Professor Saucedo, and our community, I thank you very much for a very successful opening workshop.  We had a 90% turnout from the two communities we reached out to.  All the applicants commented on what a great service they received and that they hope we will have more workshops in the near future.  SEIU was very impressed with the organization of the workshop and the number of law students and pro bono attorneys who were there to provide such a "critical service to the community."
We consider it a privilege to have had such highly respected immigration attorneys helping do final review and mentoring our law students.  A very special thank you to our Immigration Clinic Alums:
Clara Levers, Christina Lee, Shannon Going, Kirsten Hill, Mary Waltermire, Mary Waltermire, Susana Solano, Marien Sorensen, and Blake Nordahl; our community partners:  Michael Schoenleber (AILA attorney), Johnny Walker (AILA attorney), Professor Carter White (Director of UC Davis Civil Rights Clinic), Santiago Avila-Gomez (UC Davis Civil Rights Clinic Alum and CRLAF Project Director), Grisel Ruiz (CRLAF/ Immigration Law Clinic Sutro Fellow), Juanita Ontiveros (CRLAF Director of Community Outreach and Education), and Sergio Perez (CRLAF Special Projects Assistant). 
Last, but not least, we thank the La Raza Law Students and Professor Saucedo's Immigration Law Class, who provided excellent assistance with completing the naturalization applications, photocopying, and final checkout and made it possible for applicants to be served immediately.  
We also thank Senator Steinberg, Sacramento Law Foundation, and Univision for their partnership and sponsorships of this workshop.
With great appreciation,
Amagda    
Professor Pérez sent the e-mail to all of our partners, without whom the weekend's workshop would not have been possible!  Thanks, all!!!