Immigration in the News
Posted By Kevin R. Johnson, Nov 25, 2014
President Obama's recent announcement that he would take executive action on immigration reform set off a frenzy of media coverage of immigration issues, and I'm proud to say that many reporters turned to King Hall faculty for information and commentary.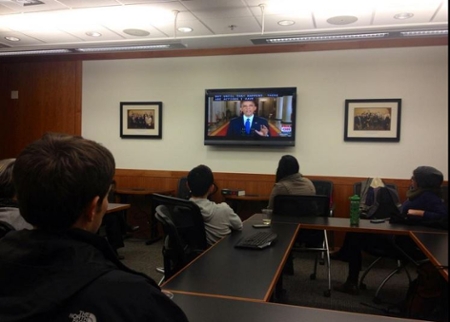 Faculty and students gathered at King Hall to watch the President's televised address.
In the past few days, I've spoken on immigration issues with KXTV, the Sacramento Bee, Impacto Latin News, National Public Radio, PolitiFact.com, KCRA-3, and Capital Public Radio, and also published an op-ed in "Room for Debate" on  the New York Times website. Professor Jack Chin has also been very active, commenting for KCRA-3 and Yahoo! News, and it was especially nice to see Jack and Professor Leticia Saucedo on another KCRA-3 report that included live shots of the emotional reaction from UC Davis students to President Obama's actions.
Meanwhile, University of California President Janet Napolitano announced on November 21 that UC Davis School of Law will host an exciting new pilot program that will expand legal services available to undocumented students at UC campuses without law schools: UC Merced, UC San Francisco, UC Santa Cruz, UC Santa Barbara, UC San Diego and UC Riverside. The program, one of the first of its kind in the country, will operate out of the UC Davis School of Law Immigration Law Clinic, offering our students the opportunity to represent clients in immigration court and before immigration agencies under the direction of staff attorneys.
Our faculty has a long tradition of active engagement in the most pressing legal issues of our time.  It's great to see that continuing with regard to immigration reform.