Honoring Leo Martinez
Posted By Kevin R. Johnson, Jan 12, 2011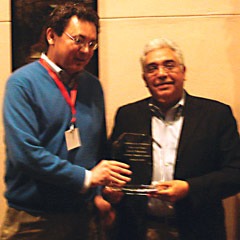 As part of my recent visit to San Francisco for the AALS Annual Meeting January 5-8, it was my pleasure to attend the annual dinner of the Latina/o Law Professors, where I was honored to be able to present an award to UC Hastings Professor Leo Hastings. 
Here is an excerpt from my remarks that I hope conveys some sense of why we think Professor Martinez is so special: 
"I want to emphasize that he is not being honored because he is the one and only Latina/o law professor whose name is forever etched in history in the caption of a Supreme Court decision, namely Christian Legal Society v. Leo Martinez et al.  But that is an appropriate historical landmark.  As Leo said, this decision, which allowed Hastings to deny support to a student organization that discriminated against gays and lesbians as well as those who advocate on their behalf, 'validates our policy, which is rooted in equity and fairness.'"
"Leo long has been a leader in legal education.  After stints in the Army JAG, U.S. Attorney's Office, and law firm of Howard Rice, he joined UC Hastings' faculty in 1985.  He served as academic dean for not one or three but 12 years; that makes Micky Ward's life in the film The Fighter something akin to a walk in the park.  Leo also served a year as interim chancellor and dean at UC Hastings. 
Leo is also a teacher—a teacher of Contracts. Federal Income Taxation, and Insurance Law, and has a West casebook on insurance law.  He has served as a friend and mentor to many of us.  And he has served the public, including as board chair of Public Advocates, a public interest law firm, and chairman of the board of KQED, a local public television station, and many other nonprofits."
Congratulations, Leo!