Heartwarming Ceremonies: Swearing-In and Naturalization
Posted By Kevin R. Johnson, Dec 8, 2015
The Kalmanovitz Appellate Courtroom was the scene of two heartwarming events on Friday.  In the evening, members of the UC Davis Class of 2015 were sworn-in as official members of the California State Bar.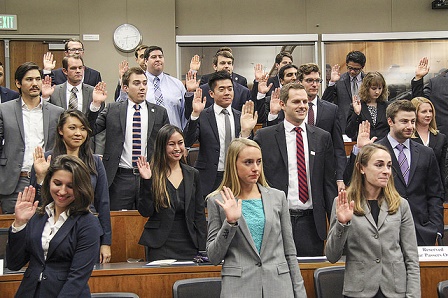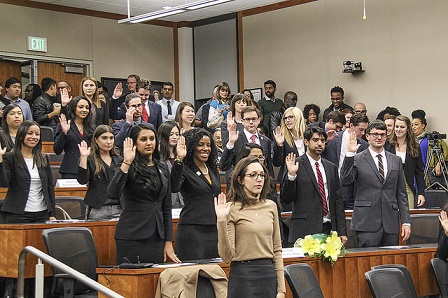 To see the photo gallery from the swearing-in ceremony, visit our Flickr page.
King Hall alumni Justice Joan K. Irion of the California Court of Appeal, Fourth District, administered the state oath to the new attorneys while faculty, friends, and family watched. Justice Irion offered inspiring remarks about her journey from UC Davis to being a Justice. Next, Judge Troy Nunley, U.S. District Judge for the Eastern District of California, administered the federal oath.  He encouraged the new attorneys to use their skills to help people who need their help the most.  The program concluded with King Hall Alumni Board President Alberto Roldan '92 emphasizing the importance of their continued involvement in King Hall.
Earlier in the day, the same courtroom was the site of a naturalization ceremony organized by U.S. Citizenship and Immigration Services.  Immigrants from around the region were sworn-in as new U.S. citizens.  Such ceremonies are often emotional and meaningful, especially to the new Americans, and King Hall was pleased to host the event.
Congratulations to California's newest members of the bar, and to our new citizens!