Guest Post: UCDC Student Gina Verraster '18
Posted By Kevin R. Johnson, May 23, 2017
All of us at UC Davis School of Law are very proud of the King Hall Externship Program, which allows students to earn academic credit for field placements in government or public interest law offices, while being jointly supervised by a practicing attorney and a member of the King Hall Faculty. In recent years, our students have served externships with district attorneys and public defenders, in judicial chambers (both state and federal), the California Legislature, and a wide range of government offices, public interest, and public policy organizations.
Recently, Gina Verraster '18, who was a research assistant for me last summer, took advantage of an opportunity to participate in one of our most exciting externships: the UCDC Law Program.  Gina was kind enough to write up a summary of her experience, to give me permission to post it on this blog.  Here is Gina's guest post: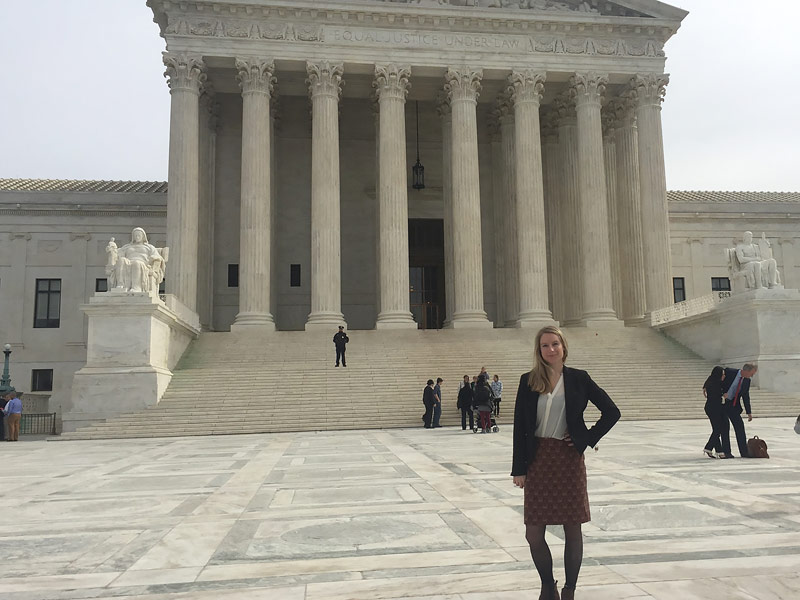 My name is Gina Verraster and I will be a 3L at King Hall this upcoming school year. I participated in the University of California's law program in Washington, D.C. (UCDC) during the Spring semester of my second year. The UCDC Program allows students to extern full-time in D.C. at placements such as federal agencies or Congressional offices. I had the amazing opportunity to work as a law clerk with Senator Dianne Feinstein's Judiciary Committee office. My externship was an incredible experience. I worked with brilliant and extremely dedicated individuals and gained an in-depth understanding of the legislative process over the course of the semester.
The Senate Judiciary Committee is responsible for considering judicial and executive branch nominations and for oversight of the Department of Justice. Additionally, the Judiciary Committee's jurisdiction includes issue areas such as immigration and copyrights. Senators introduce bills and then the committee with the appropriate jurisdiction votes on the legislation. Bills voted out of committee head to the Senate floor. As law clerks, we assisted attorneys working for the Senator by researching information to draft legislation and to prepare for hearings.
A couple of my most memorable experiences over the semester include going to the Supreme Court to hear oral arguments for Hernandez v. Mesa and attending the hearings on Neil Gorsuch's nomination to the Supreme Court. I got in line at 4am to be one of the first 50 people guaranteed a ticket to watch oral arguments at the Supreme Court; I barely made the cut at number 48. It was surreal and inspiring to see the Justices navigate through arguments in real time. This was an impactful moment that I will cherish throughout my career.
The Senate Judiciary Committee held four days of hearings for now Justice Gorsuch's nomination to the Supreme Court. I was awestruck to be in the hearing room and to witness the tension between Republicans and Democrats. The stakes were high for generations of Americans, and one could feel the weight of the moment in committee members' statements and questions for the nominee. Previously, Republicans, in an unprecedented move, had refused to give a hearing to President Obama's Supreme Court nominee, Judge Merrick Garland. Many of the Democrats' questions reflected concerns about the role and independence of the Supreme Court in the context of a myriad of controversies surrounding the Trump Administration. 
I strongly encourage future students to pursue an externship in D.C., especially one on the Hill. Although it may seem daunting to set aside time from law school coursework to take on an externship, the experience is invaluable and would undoubtedly enrich students' academic and professional pursuits.