Guest Post: Erika Budrovich '18 Reports from the United Nations
Posted By Kevin R. Johnson, Oct 26, 2016
Editor's Note: King Hall student Erika Budrovich '18 is traveling with Professor Karima Bennoune, who is making a special presentation to the United Nations General Assembly in New York City in her capacity as Special Rapporteur in the field of cultural rights.  Here is Erika Budrovich's guest blog entry on her experiences: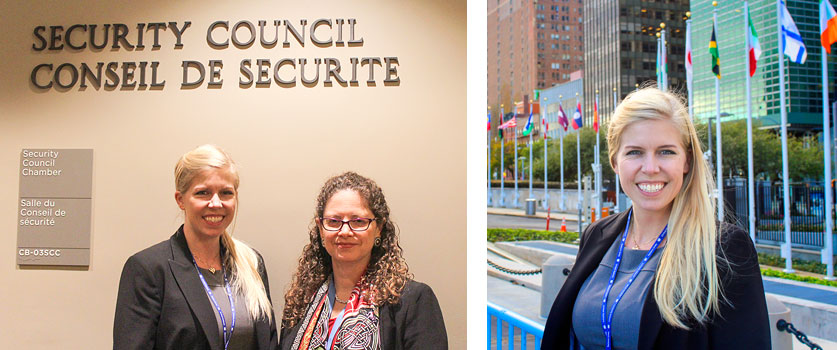 Today I had the incredible opportunity to attend the Security Council's annual debate on women, peace and security and the implementation of Resolution 1325. This special access was made possible by being a member of Professor Bennoune's UN Human Rights Practicum at UC Davis Law and joining her in her capacity as the UN Special Rapporteur in the field of cultural rights. 
First off, the United Nations building itself is a beautiful space that at 10:00 am is hectic with the bustle of diplomats and representatives from around the world heading to meetings that simultaneously occur throughout the building. After passing through security and showing our credentials, we entered the Security Council room. Its interior is stunning: an immense mural covers the back wall, country representatives sit around the iconic circular table, and translators sit in the glass paned observation rooms overlooking the space live-translating everything that's going on.
The meeting itself was captivating. We were able to hear a briefing by Rita Lopidia, a civil society delegate from South Sudan who gave a powerful statement on the importance of ensuring peace and security for women in her country. She discussed the importance of the resolution, the inordinate impact of warfare on women, including the use of sexual violence as a weapon of war. Her message was so moving it spurred an ovation from the entire room and delegate after delegate referenced her in the responses that followed. The representative from Spain spoke next, followed by Egypt, New Zealand, Ukraine, China, and many other countries.
Many countries shared in a call for the inclusion of women in conflict management, conflict resolution and sustainable peacekeeping. Countries stressed the importance of both protection and participation of women, with many citing research that shows a significant increase in the success and sustainability of peacekeeping efforts that include women. Many countries expressed a common theme that the Security Council must match its rhetoric with action. A tense moment occurred when Ukraine's representative called out Russia for being "fully responsible" for specific violations of women's human rights. Several countries later, Russia's statement scolded Ukraine for its statement and then proceeded to accuse it of harsh offenses against Russian women. All in all, it was amazing to see so many countries share the progress they had made in the past year to better protect and involve women in conflict zones, while also stress that, in spite of this progress, there is much work to be done to further the goals of SCR 1325. 
It was a wonderful start to an exciting week; thank you King Hall, for this great opportunity!