Guest Entry: Humanitarian Aid Legal Organization Honors Custodial Staff
Posted By Kevin R. Johnson, Nov 1, 2012
I am proud of the spirit and sense of community here at King Hall. The Humanitarian Aid Legal Organization (HALO) just held a wonderful event to recognize some key, but unsung, members of our staff: the custodians.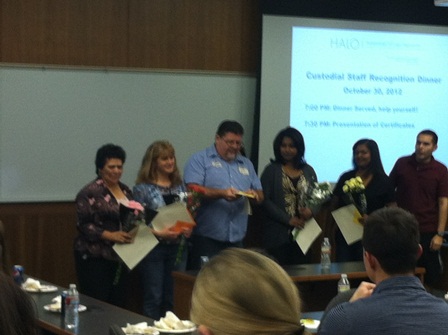 HALO Chair Christian Acevedo '13 contributes this guest entry to the Dean's Blog.
***
HALO honored the King Hall Custodial staff with a ceremonious dinner on October 30.  Many custodians brought along members of their family.  There were over 40 students in attendance, along with Professor Tanaka and the entire custodial staff:

- Marueen - who works the day shift, and brought along her daughter and grandchildren
- Alicia- who works the graveyard shift and gave a wonderful speech thanking King Hall students for their thoughtfulness
- Kokila, who is new to King Hall and also works the graveyard shift.  She brought along her husband. 
- Aleen, who typically works the Geidt Hall graveyard shift, but covers for King Hall custodial staff when they are ill.
- Dave, who works the King Hall graveyard shift, brought along his wife and daughter.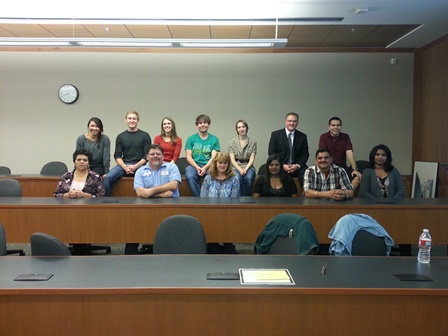 Students and custodians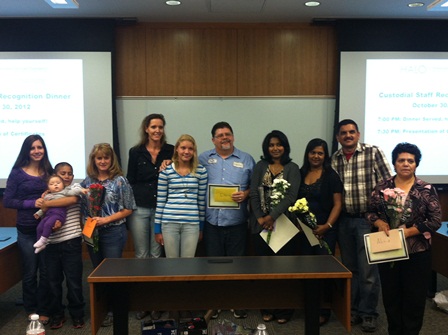 Custodians and their family members
Students and the custodial staff enjoyed Italian food and Halloween cookies along with music, fun stories, and lots of laughter!  HALO board members presented each staff member with a certificate of appreciation, a signed card, and flowers (or, in the case of our one male custodian, a Starbucks gift card).  Our custodial staff works incredibly hard day in and day out.  If you haven't had the chance, do take time to stop and say hello to them! 
***

THANKS to Christian, HALO, and all of the members of the King Hall community who took part in recognizing our wonderful custodial staff! We value and appreciate all that you do for King Hall!