Guest Blog on La Raza Lawyers Charitable Foundation
Posted By Kevin R. Johnson, Oct 25, 2010
As I mentioned in an earlier blog post, student Aidin Castillo was awarded a scholarship at an event in San Jose over the weekend.  Joining her was classmate Emilio Camacho, who also received a scholarship and wrote this guest blog entry about the honor.  Congratulations to both!!!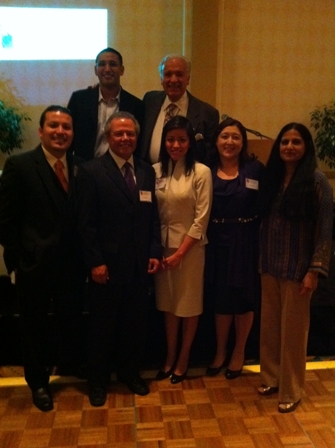 Proud to be a "King Haller"
By Emilio Camacho '11
It is not the best time to be a law student.  Rising tuition fees, a sluggish job market, and the state's fiscal crisis do not provide immediate promises.  Nonetheless, times like this allow us to test the commitment of communities and alumni in the face of adversity.
Last Friday, I was honored to attend a dinner in San Jose where I was awarded a scholarship to help me bear the current crisis.  La Raza Lawyers Charitable Foundation (http://www.larazafoundation.org) has acknowledged the problems facing current law students and has decided to do something about it.  At the dinner, the foundation made it clear that it is committed to "invest in the future" by awarding scholarships to deserving students who, in addition to succeeding academically, show a commitment to community service.
The attendees included Latino judges, Latino lawyers, Latino students and Latino leaders such as Adam Escoto, a retired educator who is running for a seat at the Santa Clara County Board of Education because he believes that our community must get involved in the educational policy decisions of the community. Seeing all these people coming together and working together was reinvigorating. 
However, I must confess that, at least for me, the highlight of the night was the presence of several King Hall alumni at the event.  George Rios, former Assistant San Jose City Attorney, was honored with the Lifetime Achievement award.  Ruby Marquez talked to me about her own King Hall experience. Fernando Zazueta, a King Hall alumnus and San Jose community leader, was also in attendance. Students in attendance included Jose Olivera and Aidin Castillo; Aidin was also honored with a scholarship to support her goals and endeavors.   
In excelling and setting a good example for the new generation of students, our alumni have taken an active role to support us during most difficult times.  I look forward to the opportunity to continue to carry on the spirit of King Hall: the spirit of public service and professional excellence. This spirit is fueled by the fact that our faculty, administration, allies, and, most importantly, our alumni do not stop caring. For this reason, it is good be a "King Haller."