Guest Blog: King Hall Student Speaks on Externship Programs
Posted By Kevin R. Johnson, Nov 4, 2016
Here is a guest blog post from Acting Director of Externships Carrie Rosenbaum '02.
***
On Tuesday, November 1, UC Davis School of Law student Jamie Knauer '17 spoke on a panel of law school externs at an event of the Bay Area Consortium on Externships (BACE). The continuing legal education event held at UC Berkeley School of Law was titled, "A Student Perspective on Building and Strengthening your Agency's Externship Program."
Currently, Jamie is externing for Jacqueline Scott Corley, a federal magistrate judge for the United States District Court for the Northern District of California. He and the other student panelists spoke to approximately 50 supervising attorneys from host agencies around the Bay Area about training law student externs and fostering the next generation of attorneys. The students provided keen insights into the ways in which supervisors can help them grow and learn.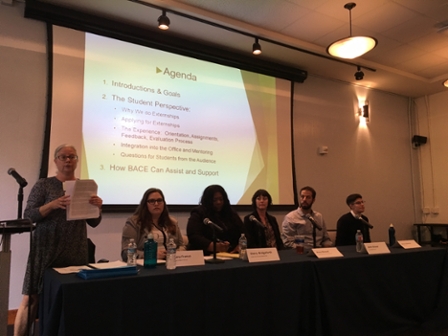 Left to right: Sue Schechter, Lecturer in Residence and Director of Field Placement, Berkeley; student speakers Julia Franco (UC Hastings), Sherri Bridgeforth (Golden Gate), Anna Manuel (USF), Jamie Knauer (UC Davis), and Olivia Sideman (UC Berkeley)
***
Thanks for sharing the guest blog entry and photo, Carrie! And great job, Jamie Knauer '17!