Guest Blog Entry: Summer Licensing Academy
Posted By Kevin R. Johnson, Jun 17, 2014
Even though we're in the summer break, King Hall is playing host to several important legal seminars and educational opportunities. This week, dozens of tax attorneys are taking part in the Summer Tax Institute at UC Davis School of Law. And last week, our International Law Programs wrapped-up a Licensing Academy that brought attorneys from across the globe to King Hall.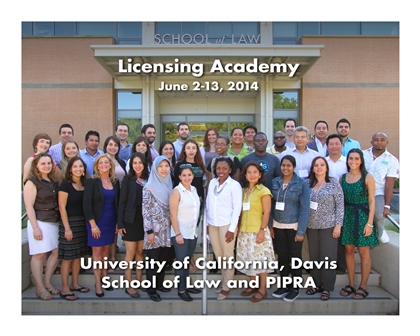 Executive Director Beth Greenwood contributes this guest entry to the Dean's Blog:
I just celebrated the conclusion of the 4th annual two-week Licensing Academy at the UC Davis Law School with Professor Alan Bennett, Director of PIPRA (Public Intellectual Property Resource in Agriculture) and the 30 participant lawyers, technology transfer officers, academics and inventors from 20 countries who have spent the past two weeks at the UC Davis School of Law exploring US models of public institution management of intellectual property and its licensing.  Supported by the OAS (Organization of the American States) and WIPO (World Intellectual Property Organization), the Licensing Academy is a partnership program between PIPRA and the UC Davis School of Law created by Alan Bennett and our UC Davis Law School intellectual property faculty.  The participants are remarkable – dedicated to enhancing the capacity of their countries to support public innovation and research programs.  It was a pleasure to see the close bonds that these professionals formed in such a short time, especially because they hailed from so many different countries such as Uruguay, Chile, Pakistan, Nigeria, Thailand, Mexico, Suriname, Trinidad, Tobago, and Canada among others.  This special program is just one more example of the growing international impact of the UC Davis School of Law and its support for innovation and development.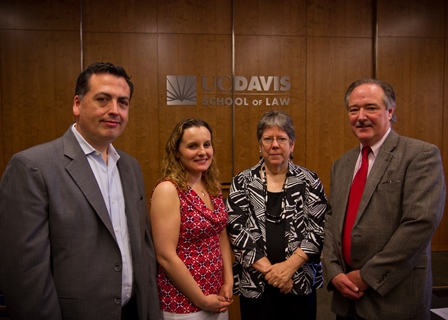 L to R: Cesar Parga, Senior Trade Specialist, Department of Trade, Tourism and Competitiveness, Organization of American States and Adjunct Professor of Law at Georgetown;  Monica Alandete-Saez, Director of Analyses & Educational Outreach, PIPRA; Beth Greenwood, Executive Director, International Law Programs, UC Davis School of Law; and Alan Bennett, Executive Director, PIPRA
Thanks, Beth! It was wonderful to see so many attorneys from around the world at the Licensing Academy at King Hall.