Guest Blog Entry: Inaugural APALSA Banquet
Posted By Kevin R. Johnson, Apr 19, 2012
Here is a guest blog entry from Senior Assistant Dean for Student Affairs Hollis Kulwin. Unfortunately, I had to miss it because it was the same time as an admitted student event in Sacramento. Congratulations on your great event, APALSA students!
***
Last Friday, I attended the inaugural banquet hosted by the Asian Pacific American Law Students (APALSA).  The students did a really nice job!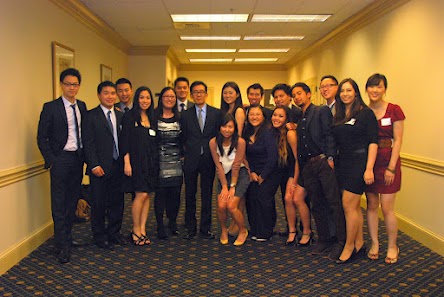 APALSA Board with faculty advisor Professor Tom Joo.  Photos courtesy of APALSA.
About 120 people attended, including members of the Bench and Bar, as well as our own La Raza Law Students and McGeorge Law School's APALSA.
Sacramento Superior Court Judge Russell Hom was the evening's MC--he was really nice, was very impressed with the students and did a great job as MC.  The keynote speaker, California Court of Appeal Associate Justice Nathan Mihara, was extremely nice and delivered an excellent speech about diversity, the power of words and the importance of finding and being a mentor.
There were many members of the Asian Bar there, including Asian/Pacific Bar Association of Sacramento (ABAS) President Angela Lai, Sacramento Superior Court Judge Helena Gweon and Administrative Law Judge for the State Personnel Board, Floyd Shimomura '73.  I sat with Floyd and Justice Mihara and his wife at dinner.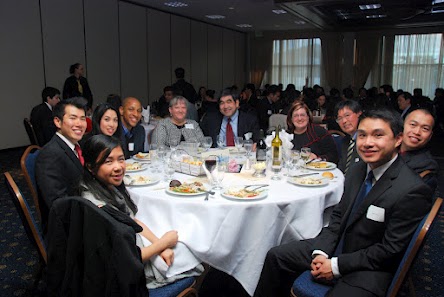 Sitting at dinner with Justice Mihara (center)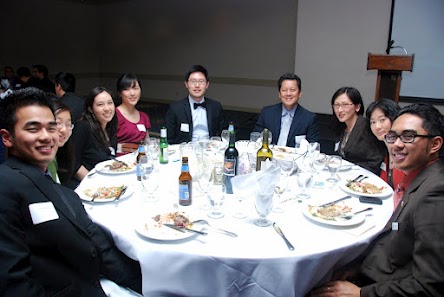 Banquet guests with event MC Judge Russell Hom (4th from right)
Professors Tom Joo, Miguel Mendez, Madhavi Sunder, Clay Tanaka were the faculty who were there.  Casper Chan '13 thanked a long list of faculty who had contributed financially to the event.  He also thanked the Dean's Office several times for its support. 
The students had a nice ceremony for the 3Ls, where they described each student's accomplishments and gave each one a certificate.  They introduced their new board and recognized Clay Tanaka for his contributions.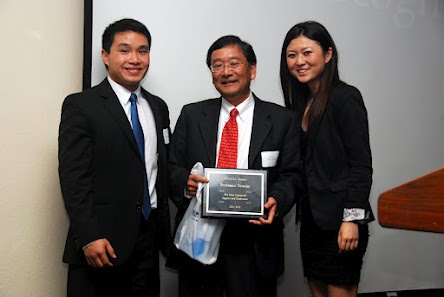 Caspar Chan '13, Professor Clay Tanaka, and Wendy Guo '13
Congratulations to APALSA on its successful first banquet.  Best wishes for many more!