Guest Blog Entry: Celebration for Justice Joyce Kennard
Posted By Kevin R. Johnson, Sep 25, 2014
The Law School recently sponsored faculty and students to attend a celebration of Justice Joyce L. Kennard's career and retirement. The event was organized by a coalition of Northern California Asian American bar associations and honored the justice and her judicial legacy as the first Asian-American justice on the California Supreme Court.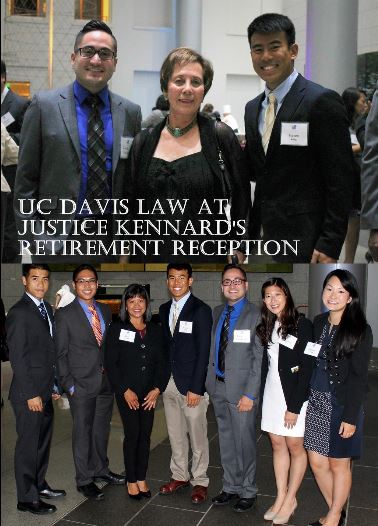 King Hall students with Justice Kennard (top) and Professor Rose Cuison Villazor (bottom).
Steven Vong '16 attended and contributes this guest entry to the Dean's Blog:
I was very privileged to hear Justice Joyce L. Kennard speak at her retirement reception celebrating 25 years on the California Supreme Court. The celebration took place in the California State Building, where Justice Kennard made history as the second female and first Asian-American justice on the Court. The evening was full of emotions, with a moving documentary describing her Indonesian immigrant past, Justice Martin J. Jenkins (CA Court of Appeal, First District and her personal mentee) telling humorous anecdotes of Justice Kennard being described as a revolting peasant by a fortune teller, and the Justice herself sharing how she overcame adversity against all odds. The event was truly inspirational, and it was an honor to celebrate her legacy alongside Professor Villazor and guests such as Justice Goodwin Liu and the recently confirmed Mariano-Florentino Cuellar. As a current student organization leader and a soon-to-be advocate, I saw this celebration not only as an event remembering the past, but a calling for more diversity in the judiciary and for future generations to give back to the community and serve the public.
Thank you, Steven! The Law School was happy to support your attendance at the celebration. And congratulations and best wishes, of course, to Justice Kennard on her retirement!