Guest Blog: APALSA Banquet 2016
Posted By Kevin R. Johnson, Apr 12, 2016
Senior Associate Dean Hollis Kulwin attended the recent Asian Pacific American Law Students Association (APALSA) banquet. She wrote this guest entry for the Dean's Blog. Thanks, Dean Kulwin!
***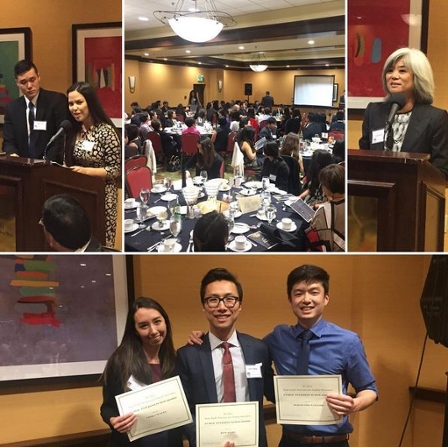 Photo from Instagram @ucdavislaw
On April 7, I spent a wonderful evening at the 5th Annual APALSA Banquet.  The banquet room at the Hilton Sacramento was packed with students from APALSA, La Raza and other King Hall student organizations, as well as lots of alumni and members of the Sacramento-area bench and bar. 
Kathryn Doi '85 (pictured, upper right) was the evening's terrific keynote speaker.  Ms. Doi, a former president of the King Hall Alumni Association, delivered an excellent speech, reminding students that "success" is not defined solely by prestige or wealth, and encouraging them to explore paths throughout their legal careers that suit their interests and passions. 
Professor Clayton Tanaka, one of several King Hall professors who attended, announced the winners of the APALSA summer grants (pictured, bottom): Erika Watts '18, who will work for the San Francisco Public Defender; Ken Wang '18, who will work with the Legal Aid Society-Employment Law Center as part of their Disability Rights Program; and Masao Ito Taylor '17, who will work for the Asian Law Caucus' Immigrant Rights program.
Outgoing APALSA Co-Chairs Peter Lee '17 and Alex Johnson '17 (pictured, upper left) introduced the 2016-2017 APALSA Board.  Next year's APALSA will be in great hands (just like this year's).  
Many thanks to APALSA for putting on such a great event!