Guest Blog: ABAS Dinner Gala 2016
Posted By Kevin R. Johnson, Sep 29, 2016
Here is a guest blog entry about the recent ABAS dinner from Senior Assistant Dean Hollis L. Kulwin. UC Davis School of Law was proud to sponsor several law students to attend. Thanks for blogging, Dean Kulwin!
On Tuesday night, I was delighted to attend the 2016 Asian/Pacific Bar Association of Sacramento (ABAS) dinner gala held at the stately Tsakopoulos Library Galleria in Sacramento.  It was wonderful to see a large number of King Hall students there, enjoying the evening and enthusiastically networking with the dinner guests.  Many King Hall alumni were in attendance as well.  I sat at dinner with King Hall alumni, including Gene Woo '85, Lisa Taylor Carlock '97 and Stephen Lau '02, along with several members of King Hall's Asian Pacific American Law Students Association (APALSA).
ABAS generously mentors and sponsors scholarships for law students.  King Hall alumni Yoshinori "Toso" Himel '75 and Latika Sharma '07 presented the scholarships on behalf of ABAS.  King Hall had two student recipients honored: Dana Cruz '16 and Masao Taylor '17.  Congratulations, Dana and Masao!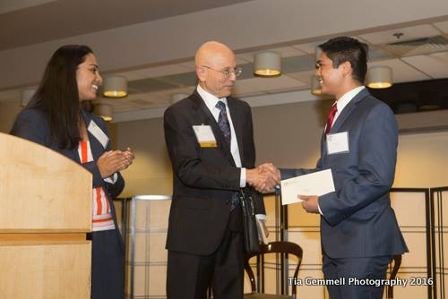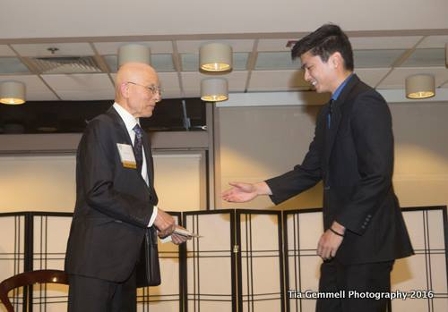 Dana Cruz '16 (top) and Masao Taylor '17 received awards. Photos by Tia Gemmell.