Governors' Global Climate Summit 3
Posted By Kevin R. Johnson, Nov 15, 2010
Today I attended the introductory ceremonies of the Governors' Global Climate Summit, titled "Building the Green Economy at UC Davis."  Hosted by Governor Arnold Schwarzenegger and the governors of Wisconsin, Michigan, Washington, and Oregon, the summit (abbreviated GGCS) brought a full house to the Mondavi Center for the Performing Arts.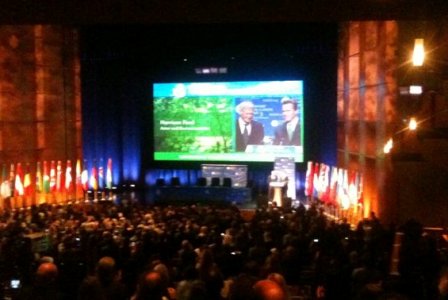 Actor Harrison Ford and Governor Arnold Schwarzenegger address the audience at the Mondavi Center.
From the event's website: "GGCS 3 promises compelling climate conversations from the top leaders of local, regional, national and international entities, as well as those from academia, business and nonprofit. This summit will continue to broaden our partnerships through an increased understanding of our unique environmental and economic challenges as we continue to grow a clean, green economy. GGCS serves as a forum to learn best practices, share ideas and collaborate on projects to see first-hand how our actions at the subnational level can drive national and international climate negotiations."
Chancellor Linda Katehi offered a warm welcome to the participants, including a score of state and local leaders from around the world, and touted the incredible wealth of environmental scholarship produced by UC Davis faculty.  Governor Schwarzenegger also welcomed the participants and also "bragged" – his words  – about the UC Davis contribution to the study of the environment.  Award-winning actor Harrison Ford spoke on the importance of saving the environment.
I saw Professor Rick Frank there.  As you probably have heard, Professor Frank is going to lead the Law School's new Environmental Law and Policy Center.  I saw some of our environmental law students at the GGCS, too!
The GGCS continues tomorrow.  For the full schedule of events, click here.