Frontiers of Immigration International Conference
Posted By Kevin R. Johnson, Jan 27, 2015
UC Davis School of Law faculty were important contributors to the Frontiers of Immigration International Conference, an event sponsored by the UC Davis Temporary Migration Cluster on January 22-23.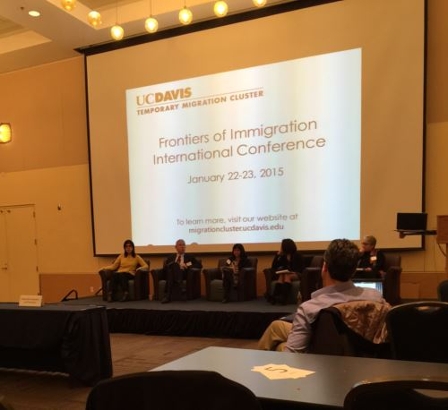 Panel discussion with King Hall faculty including G. Jack Chin, Rose Cuison-Villazor, and Leticia Saucedo
Bringing together an interdisciplinary group of scholars and researchers from around the world, the conference included discussions on the economic effects of immigration, skilled immigration, immigrant integration, immigration from Asia and Latin America, international economic development, and policy and legal reforms. Among a star-studded group of scholars, Gabriel "Jack" Chin, Rose Cuison-Villazor, and Leticia Saucedo spoke on a panel on Asian and Latino immigration. I spoke on the closing panel speculating about the next 20 years of immigration policy.  Chancellor Linda P.B. Katehi, herself an immigrant from Greece, offered the concluding remarks to the conference.
As I have said often, King Hall has among the best immigration law faculty in the United States. They regularly make us proud as they exchange ideas and policy proposals -- and hold their own -- among leading economists, sociologists, historians, and other scholars from around the world.  We all should be proud that the School of Law has strength in an area that has become one of the most pressing policy -- and social justice -- issues of modern times.