Film Screening: Bringing King to China
Posted By Kevin R. Johnson, Jan 5, 2012
Have you heard of the film "Bringing King to China"?  There's been a lot of interest in the movie about a young woman who dreams of bringing Dr. Martin Luther King's principles of nonviolence to China. The film is going to be screened on campus during the week of Dr. King's birthday, according to this e-mail from Brandon Shelton '12:
"Dean Johnson, I just wanted to let you know that Bringing King to China is starting to generate a truly positive local response so far. Thanks to your support in showing the film here at UC Davis, there has even been some local media interest in the film. The Davis Enterprise will be doing a review and interview in an article very soon. Also, the African and African American Studies department head has offered to promote the film to her faculty and students. We have decided to hold the showing in the 194 Chem Building on Tuesday, January 17th at 7:00 P.M. I have attached a movie poster and flier for you in hopes that you might help promote the event to the faculty and students. If there is anything you might need from me, please let me know. Thanks again!"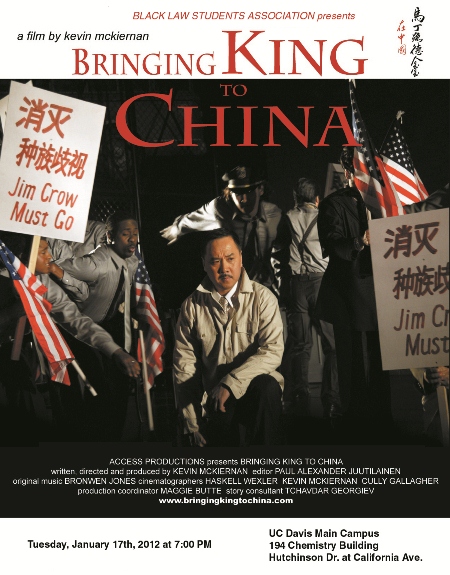 If you'll be around on January 17th, check out the film!