Filipino Law Students Culture Week 2014
Posted By Kevin R. Johnson, Oct 3, 2014
Throughout the School year, various King Hall student organizations hold their own "culture weeks" and "theme weeks." This week, the Filipino Law Students Association (FLSA) held its week, and I attended a couple of enjoyable and informative noontime events (along with very tasty lunches, provided by FLSA with support from the Law Students Association and School of Law).
On Tuesday, the students hosted a viewing of the film "Delano Manongs:  Forgotten Heroes of the United Farm Workers," which tells of the instrumental role that Filipino workers have played in the UFW's famous movement to organize the fields.  Professor Rose Cuison Villazor provided commentary on the film and led a discussion after the film was shown. 
On Thursday, the students hosted a visit by California State Assemblymember Rob Bonta, the very first Filipino-American to be elected to the California State Legislature.  I was able to meet Bonta, a lawyer trained at Yale, before his lunch presentation and was very impressed with his commitment to the greater community. Bonta's parents were both members of the UFW.  He tweeted his thanks to King Hall and FLSA for inviting him, and we tweeted our thanks right back.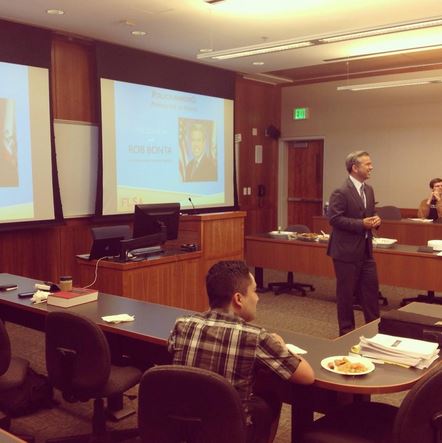 Photo from Twitter @RobBonta.
Congrats to the Filipino Law Students Association for organizing a great week!