Environmental Law Symposium on Oceans
Posted By Kevin R. Johnson, Mar 11, 2016
It is Spring, and 'tis the season for symposia.
This week, our environmental law students group put together a great event on the legal issues surrounding oceans, titled "Changing Ocean Conditions and Emerging Legal Challenges Along the California Coastline."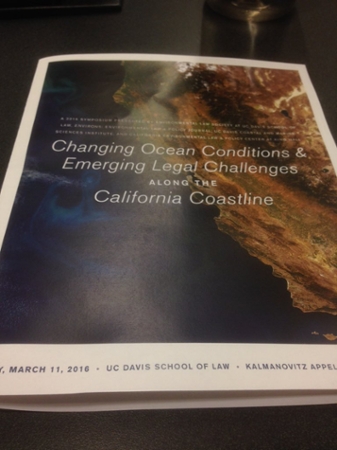 The symposium program. Photo courtesy of Twitter, @patmulcahy34.
The event was cosponsored by the Environmental Law Society, our law journal Environs, our California Environmental Law & Policy Center, the UC Davis Coastal and Marine Sciences Institute, and the Sacramento County Bar Association. 
A great array of environmental lawyers, activists, professors, and students were in attendance bright and early on this rainy day. Professor Rick Frank introduced the keynote speaker. I had the pleasure of welcoming the group and noting our 50th anniversary.