Environmental Law Society Students Attend Conference in Yosemite
Posted By Kevin R. Johnson, Nov 18, 2011
Environmental Law Society (ELS) students just sent me these wonderful photos and reports from their recent trip to a conference in Yosemite.  The Dean's Office provided financial support for their trip from an endowment created during the "Students First" campaign to promote student activities with academic and public interest components.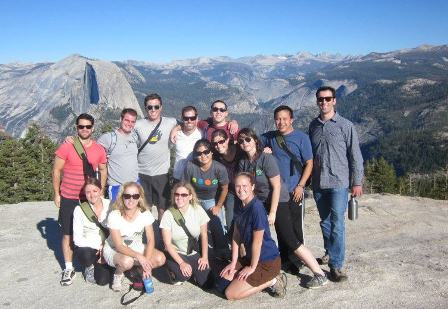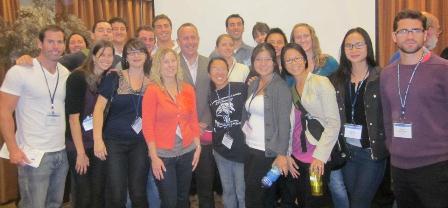 UC Davis law students with alumnus Senator Darrell Steinberg '84 (center)
Megan Lin, 2L: "This past October, twenty-two UC Davis law students, including three 1L's attended the Environmental Law Conference at Yosemite.  The three day conference featured panelists such as Ken Alex and Cliff Rechtschaffen, Senior Advisors to Governor Jerry Brown, as well as Prof. Richard Lazarus, Harvard Law School professor, and Prof. Rick Frank, UC Davis Law School professor.  UC Davis students attended sessions which covered everything from recent environmental law developments in Supreme Court cases to environmental leadership in the California Legislature.  Students also had the opportunity to meet with Hon. Darrell Steinberg, a UC Davis Law graduate, and participate in afternoon hikes and bike rides with lawyers, professors, and policy makers working in the field of environmental law."
Naomi Kaplowitz, ELS Co-Chair, 3L: "Attending the California Bar Association's Environmental Law Conference at Yosemite was an invaluable experience for students who intend to pursue a career in the field.  Due to the support of King Hall staff and the Dean's office, an unprecedented number of students attended the conference this year.  I learned about the cutting-edge legal issues in the field, networked with prospective employers, and got to know future colleagues from regional law schools.  The experience has already served me well in my pursuit of breaking into the highly competitive field.  On behalf of the UC Davis Environmental Law Society, I would like to thank everyone at King Hall who made this possible."
Anne Baptiste, 1L: "Participating in the Yosemite Environmental Law Conference was an amazing experience.  I was extremely appreciative of the opportunity because it served as a poignant reminder of why I chose to attend King Hall. I was able to take a break from reading contracts and civil procedure to learn about current environmental law issues. It was inspirational to get the perspective of attorneys who have worked in environmental law for decades and shaped its development. While Yosemite in itself is always worth the trip, the setting also served as a magnificent reminder of what is at stake should we fail to act." 
Thank you, students!  The Dean's Office was pleased to offer its support!