Dr. Ives Tournament 2012
Posted By Kevin R. Johnson, Mar 13, 2012
On Sunday, the Entertainment & Sports Law Society hosted the 34th Annual Dr. Ives Basketball Tournament.  Traditionally, the tournament has been run by KHLF, but this year, KHLF passed the torch to ESLS, chaired by Scott Judson '12 and Collin Kilpatrick '12.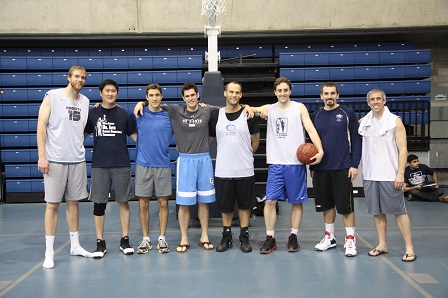 Boutin & Briscoe, the team sponsored by Steven Boutin '72, won the tournament with help from a 7' 2" recruit from the UC Davis Aggies, Michael Boone.  Boone's fiancee is current King Hall student Bonnie Shu '12, who played for Just Pruitt, the female all-star team sponsored by Professor Pruitt.   By the way, 1L Irene Williams (AKA Irene Davis-Law) played a great game for Just Pruitt but became confused at one point and let out a high-decibel scream when asked by her teammate to set a screen.
Boutin & Briscoe played the Tanakaholics (named after Professor Clay Tanaka) in the semi-finals.  With Tanakaholic star E.J. Brown '12 fouling out and sitting on the bench in the final minutes of regulation and overtime, Boutin & Briscoe pulled out a close win.  The final was exciting with Boutin & Briscoe squeaking out a victory over the "Kings" (King Hall students wearing Kings jerseys and all).
Mo Sakrani '12 and Erik Cuadros '12 were tournament chairs with Mo announcing (a la Chick Hearn) the final game.  Scott Judson grabbed the mike a time or two to add his own two cents.  Unfortunately, the awards ceremony was abbreviated because the battery ran out on the microphone.
Professor Peter Lee, who cleared up academic eligibility issues to participate in the tournament, won the faculty "knock out" competition.  Professors Clay Tanaka, Cappy White, and John Hunt, as well as Academic Success Director Chris Ide-Don and Events Manager Gia Hellwig, provided extremely tough competition.  I enjoyed attending the tournament and watching alums, students, and ringers fight it out for the coveted Dr. Ives championship trophy!