Dr. Ives Basketball Tournament 2014
Posted By Kevin R. Johnson, Apr 13, 2014
Last weekend, the students of the Entertainment and Sports Law Society (ESLS) at UC Davis School of Law hosted another successful Dr. Ives Basketball Tournament. The annual competition features student, alumni, and local attorney basketball teams and has become a King Hall tradition.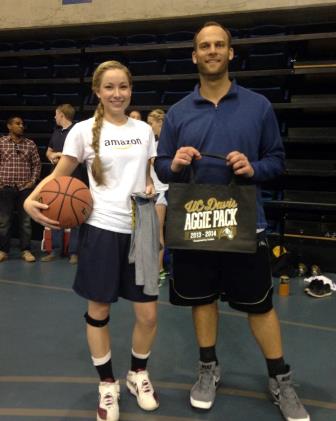 ESLS's Joel Gerson '14 contributes this event recap to the Dean's Blog:
The UC Davis Entertainment & Sports Law Society hosted the 36th Annual Dr. Ives Basketball Tournament on Sunday, April 6th at the ARC Pavilion on the UC Davis Campus, bringing together many current students, alumni and local legal professionals for a fun-filled day of basketball. 11 teams and over 100 players took part in a very successful tournament, which ended in a thrilling championship game. In the championship game, the "Tanakaholics" (a teamof recent King Hall alumni) defeated "Team Boyer" (a team of current 1L students) with a three-pointer at the buzzer to end the overtime period.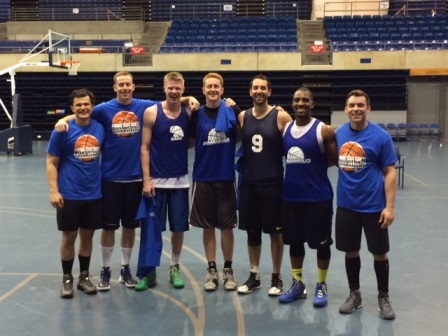 Tanakaholics: the winners!
Professor Tanaka sponsored "Team Boyer" in the tournament and so the finals truly were a win-win for the Professor! We look forward to another successful tournament next year!
Thanks, Joel! If you're wondering about the event's name, the Dr. Ives Tournament is named forEric Iverson '79, who, according to Law School legend, jumped over three defenders to toss in a spectacular scoop shot at the buzzer to win the first tournament's championship game.
By the way, ESLS is sponsoring another exciting event this Wednesday. Legendary sports agent Leigh Steinberg, who is widely credited with being the inspiration for the film Jerry Maguire, will speak at King Hall during the lunch hour in room 1301. Don't miss it!