Dowdalls, Suliman Win 2012 Carr Competition
Posted By Kevin R. Johnson, Oct 22, 2012
I just received this e-mail and photo from Christian Acevedo '13, Chair of the Trial Practice Honors Board, about the Carr Competition, which is the Law School's celebrated (and tough!) intraschool mock trial competition. The final round of the 2012 competition was on Saturday evening.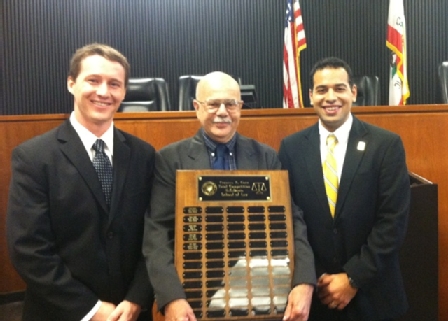 Dear Dean Johnson,
According to Judge Timothy Fall [blogger's note: Judge Fall is a 1987 alum!], the Carr Competition Final Round was among the best in recent memory! 
Joe Dowdalls (3L) and Mitchell Suliman (2L) are the winners of this year's competition.  I have attached a photo of them posing with the plaque with Professor Imwinkelried.
-Christian
Thanks, Christian! And congratulations to Joe and Mitchell!!