Decades Later, Honorary Degrees for Japanese Americans
Posted By Kevin R. Johnson, Dec 14, 2009
Over the weekend, I took part in a commencement ceremony at the ARC Pavilion, where degrees were conferred to UC Davis students in the colleges of engineering, biological sciences, and agriculture and environmental sciences, as well as to some very special guests: Japanese Americans whose college educations were disrupted when they were sent to internment camps during World War II.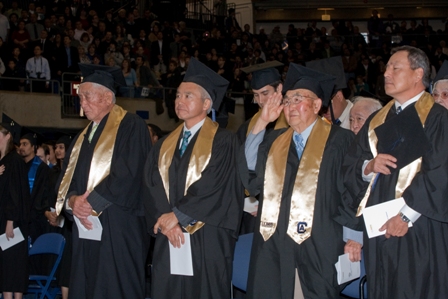 In one of the darkest and most shameful episodes in American history, the U.S. government sent more than 100,000 people of Japanese descent to internment camps in the wake of Japan's attack on Pearl Harbor.  The U.S. Supreme Court upheld the internment in the famous Korematsu case, a decision still taught in constitutional law classes.  Hundreds of internees were students at UC campuses.  47 students had to leave UC Davis, or the College of Agriculture at Davis as it was called back then.
The UC Board of Regents voted in July to grant special honorary degrees to the students, who are now in their eighties. 
On Saturday, former internees from UC Davis received those degrees.  Three attended in person.  Others were represented by family and friends.  Sadly, some honorees could not be there because they had died or were too frail to attend.
I am proud to say that King Hall professor Dan Simmons, the UC Academic Council vice chair, led the task force that supported the effort to award the degrees.  He said it was "the right thing to do."  Professor Simmons and I, along with UC Regent and King Hall graduate Rex Hime '72, were seated on the auditorium stage for the commencement, where we got a front row seat to witness this touching and historic moment.
At a luncheon after the commencement, Professor Simmons addressed the graduates and said, "This ceremony today is a reminder of your stories.  Your stories are a lesson to all of us about the danger and wrong that can result from fear and hysteria, and from the basic human reaction to others who might be perceived as different.  As you watched this ceremony today and the parade of our graduates, I hope you were as struck as I always am at these ceremonies by the diversity of the young people who received their degrees.  I see that diversity on all of the campuses that I have visited in the last few months in my role as the vice-chair of the UC Academic Senate.  Our education environment is important in that it exposes young people to people of different cultures, races, religions, and different ideas.  I hope that this diversity will help us all understand people from cultures other than our own so that the mistakes of 1942 will not happen again."
Eligible Japanese Americans can still receive an honorary degree.  More information is available at http://honorary.universityofcalifornia.edu/.