Dean's Message about the Building
Posted By Kevin R. Johnson, Jun 11, 2009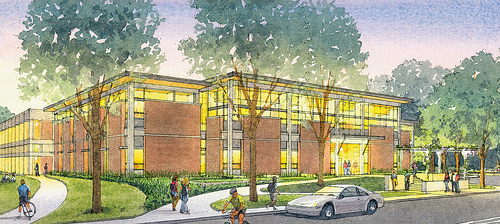 Dear King Hall Community,
We have terrific news.  Yesterday, the School of Law was informed that the UC Office of the President has allocated the remaining state general funds for the King Hall building project.  This will allow our expansion and renovation projects to proceed on schedule.  We fully plan to occupy the new East wing in May 2010.
With the state budget in crisis, this past year has been a long and uncertain journey.  After California's fiscal problems forced a brief construction hiatus early this year, the state in April successfully sold "Build America Bonds" authorized by the federal Recovery Act.  The bond sale allowed the state to resume funding previously frozen capital projects, including the King Hall Expansion and Renovation.  Our allocation is especially gratifying because the University of California system received only a small portion, $165 million, of the $1.34 billion required to fulfill outstanding state-funded capital projects on all UC campuses.
We are deeply indebted to Chancellor Larry Vanderhoef, Provost Enrique Lavernia, and Vice Chancellor of Resource Management & Planning John Meyer for their enduring support and for making the King Hall Expansion and Renovation project the very top campus priority.  Their advocacy on King Hall's behalf carried the day!  We are also grateful to Senior Assistant Dean Adam Talley, whose crucial role throughout cannot be overstated.
With the state's portion of construction and expansion funding in place, we continue actively fundraising to complete our $8 million building campaign goal, with roughly $3 million remaining to be raised.  I am very confident that we will meet our fundraising goal.
We look forward to a busy summer of construction, with the decking of the new wing's floors and the foundation for a new elevator taking shape in the weeks ahead.
Thank you for your patience and support as we build an even greater King Hall.
All my best wishes for a great summer.  It is off to a super start!
Kevin R. Johnson
Dean