Congratulations to Brigid Jimenez on 30 Years
Posted By Madhavi Sunder, Aug 27, 2015
Congratulations to Brigid Jimenez, who marks 30 years of service with UC Davis this year!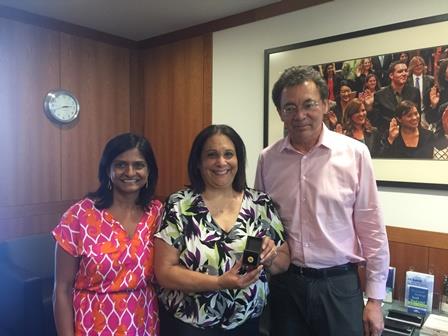 Me, Brigid Jimenez, and Dean Kevin Johnson. Brigid is holding her 30-year pin.
Brigid has been an incredible presence in the Deans Office, serving as administrative assistant to three associate deans – first Kevin R. Johnson for almost a decade before he became Dean, then Vik Amar. Now I'm the lucky Senior Associate Dean who gets to work with Brigid by my side daily. Thank you, Brigid, for all you have done for King Hall.