Confirming the New Chief Justice
Posted By Kevin R. Johnson, Aug 27, 2010
Wednesday was a banner day for UC Davis School of Law.  Tani Cantil-Sakauye '84 was confirmed as the nominee to become California's next Supreme Court Chief Justice.  Dean Emeritus Rex Perschbacher, Director of Marketing and Public Relations Pamela Wu, and I were there to support our King Hall alum.  We felt very honored to have been invited personally by the Chief Justice nominee!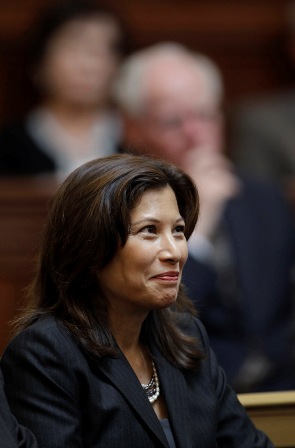 Tani Cantil-Sakauye '84 (Paul Sakuma/AP)
The hearing took place at the California Supreme Courthouse in San Francisco.  The three-member Commission on Judicial Appointments (Chief Justice Ronald George, Attorney General Jerry Brown, and Presiding Justice of the Court of Appeal, Second Appellate District, Joan Dempsey Klein) heard testimony from a dozen of Cantil-Sakauye's supporters.
UC Davis School of Law was mentioned several times! 
Eduardo Angeles of the Filipino American Service Group noted that Cantil-Sakauye is a King Hall graduate.  He went on to quote Dr. King, saying that the nominee should "not be judged by the color of her skin, but by the content of her character." 
Marily Mondejar of the Filipina Women's Network recalled how a young Cantil-Sakauye was inspired to become an attorney after hearing a speech by Filipina lawyer Gloria Ochoa, a 1976 graduate of King Hall.
Genevieve Dong of the Filipino Bar Association of Northern California proudly stated that Cantil-Sakauye is "a fellow Aggie!"
Afterward at the reception, Rex, Pam, and I had a chance to visit with several friends and supporters of King Hall, such as Alumni Board Member Gene Woo '85, Professor Clay Tanaka, and several justices and judges including Louis Mauro '87, who, earlier in the day, was unanimously confirmed as an Associate Justice in 3rd Appellate District Court of Appeal.  It was a pleasure for us to witness Justice Mauro's swearing-in, too!
Here are some photos from the big day: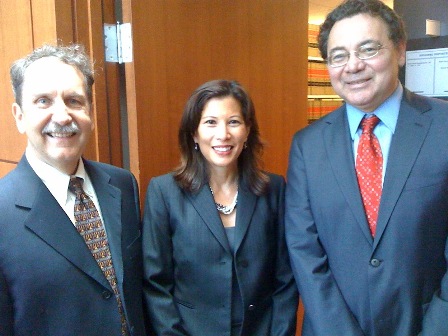 Former Dean Rex Perschbacher (who taught Cantil-Sakauye in law school!), the nominee, and me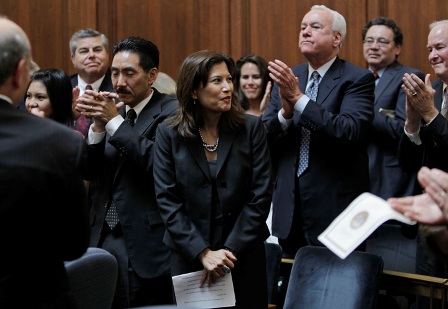 Cantil-Sakauye receives applause after the panel votes unanimously to confirm her.  You can see me, second from the right.  (Paul Sakuma/AP)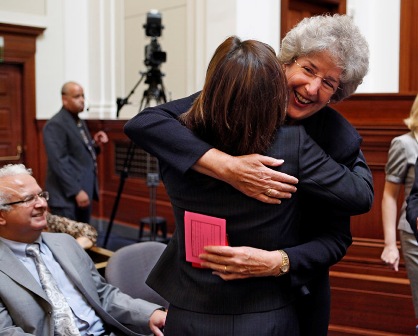 Cantil-Sakauye hugs California Supreme Court Associate Justice Carol Corrigan. Seated to the left is Associate Justice Carlos Moreno, who delivered the 2010 Bodenheimer Lecture at UC Davis School of Law. (Paul Sakuma/AP)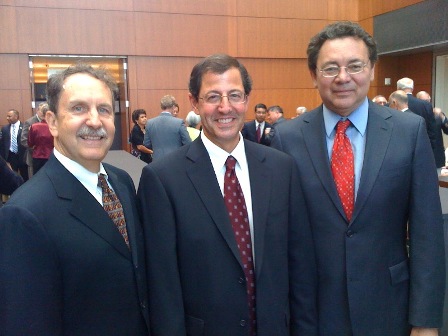 Perschbacher, newly confirmed Justice Louis Mauro '87, and me